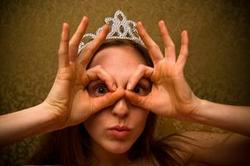 Beverly Hills, CA (PRWEB) August 8, 2008
A fundraising Ball worthy of a fairytale! To help fund the completion of their documentary "Seeking Happily Ever After," Filmmakers Kerry David ("My Date with Drew", "Making Miles -- The Miles Davis Story") and Michelle Cove (bestselling author "I'm Not Mad, I just Hate You!") are throwing an exclusive fundraising Ball on Thursday August 14th at Aqua, 424 N Beverly Drive, Beverly Hills, CA. All proceeds from the event will go towards completing "Seeking Happily Ever After" -- a feature-length documentary.
Tickets can only be bought online at: Seeking Happily Ever After Fundraising Party
Producer Kerry David says, "This party celebrates men and women at any age, and any stage -- single, married, divorced, gay or straight, who are living or seeking their Happily Ever After." This fun filled party will include:

Mini-fashion show by Rem Productions with clothes by trendy LA boutique SydneyMichelle
Fabulous Shoes contest: wear your best pumps and we'll award prizes for Most Glamorous, Most Dangerous and Most Courageous to Walk In
Emcee Jay Black, voted #1 comedian on the college circuit
Tunes spinning from DJ Dodge from MTV/Europe
A chance to be interviewed for the DVD bonus features
Special auction item -- a date with Brian Herzlinger at Geoffrey's restaurant, Malibu
EXTRA! TV show is documenting the filmmakers journey, so dress your best!
One generation's struggle to redefine the fairytale!
With single women today re-writing the rules for love, marriage and success, "Seeking Happily Ever After" explores why there are more single women (over 6 million) in their 30s today than at any other time in history, and how they are redefining what "Happily Ever After" means.
Are you living YOUR "Happily Ever After" or someone else's? Director Cove shares, "This story goes beyond the current state of single women in the US and into the core of relationships in our society. We've had incredible responses with the interviews in cities across the country. Everyone is asking us what can they do to make sure this doc gets made. This fundraiser Ball is a big step toward getting this film in theaters."
For more information about the fundraising Ball or the documentary "Seeking Happily Ever After" (including the top-rated trailer at this year's Sundance Producer's Lab) please visit: Seeking Happily Ever After
# # #