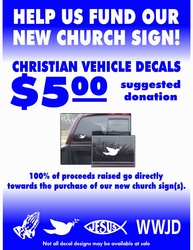 We might seem like a strange source for fundraisers
Worton, Maryland (PRWEB) April 9, 2009
Amid news that more and more churches are seeing a decline in offerings and donations, one company has developed a unique program to help with fund-raising. The program, developed by EZSignsOnline.com, allows religious groups to sell faith-based decals and make enough money to purchase a new church sign from them.
"We might seem like a strange source for fundraisers," said Wayne Hebert with EZsignsOnline," but we've found that sometimes churches want to buy a new sign, but feel like they don't have adequate funds. Especially in this economy." That, Hebert says, is what gave birth to the idea for a fundraiser. "If your church needs a new entrance sign, these decals are a great way to raise funds quickly."
The decals are designed to go on vehicles or windows and feature Christian symbols such as Praying Hands, WWJD, the Peace Dove, and the Christian Fish. They are free, other than for a small shipping charge.
Churches, youth groups, Sunday schools, and other groups, are encouraged to sell the decals for a small price--usually around $5.00 each. Because the decals are free, they keep 100 percent of what they make.
"When pastors or other church leaders tell us they'd love to install one of our New England Style or Market Street signs for their building, but that the economy won't let them, we hurt for them," says Hebert. "So now we have a solution we can offer them. We give them, absolutely free, a fundraiser to make their new sign possible and affordable. These decals are something that people would enjoy buying anyway, and the fact that they're buying for a good cause makes it that much better."
Here's how the process works: First a representative of the church orders their new sign online. If they decide finances are an issue, they then opt in to take part in the fundraiser decal program.
The EZsignsOnline.com then emails the representative a proof of their sign, so he can show it to building or fundraising committee members. "We also suggest that those who sell the decals show people the layout/proof, so they know what they're fundraising for," Hebert says. "We'll even provide a small poster to help promote the decal sales for your new church entrance sign."
For every $5.00 that the sign costs, EZSignsOnline will send the church group one decal (So that a $500 sign means the group can get 100 decals, for instance). After receipt of the proof, the church group has six weeks to sell the decals and apply those proceeds toward the purchase of the sign.
Those interested may log onto the website at http://www.EZsignsOnline.com/church or call their toll-free phone number, (800) 640-8180.
###