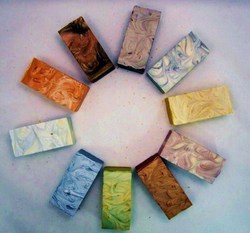 Goat Milk Stuff is a family business and we want our products to be helpful to other families
Charlestown, IN (Vocus) October 23, 2010
Fundraising activities to help others in local communities across the nation, from Church and school events to community campaigns, are part of the American way, said Goat Milk Stuff™ co-founder PJ Jonas in announcing the company's GMS Fundraiser Program.
"In the GMS Fundraiser Program, groups order from a special list of 10 popular goat milk soaps, priced at $3 per 5-ounce bar. These soaps can be resold at $6 each to raise money for the cause while providing value to customers. We provide product description sheets and soap samples to demonstrate the look, scent and feel of our luxuriously creamy goat milk soaps that leave skin silky soft," she said.
Goat Milk Stuff products are available online at http://www.GoatMilkStuff.com and in select specialty shops.
"Goat Milk Stuff is a family business and we want our products to be helpful to other families," said PJ, who with her husband, Jim, runs the business with the support of their eight children, aged 3 to 13.
"Each of our children does chores at Goat Milk Stuff to earn money, learn about entrepreneurship, and have a sense of involvement in helping the family. We are now extending that sense of responsibility to help others through our GMS Fundraiser Program," she said.
Jim Jonas added, "The program is a way for our family to give back and express our appreciation for the loyal support of our customers everywhere."
The GMS Fundraiser Program, online at http://www.goatmilkstuff.com/Goat-Milk-Soap-Fundraiser, offers 10 of the company's most popular goat milk soaps:
1. Black Raspberry with a hint of vanilla
2. Clean Cotton with a freshly laundered cotton scent
3. Honeysuckle scented soap has a hint of jasmine
4. Lavender, a popular favorite with lavender essential oil
5. Luv Spell, a lovely citrus floral scent for ladies
6. Nautical, a masculine scent for any man
7. Oatmeal, Milk & Honey, our most popular fragrance
8. Ocean with beautiful swirls of blue and white
9. Pink Sugary, hints of vanilla in a deep shade of brown
10. Purity is unscented for allergy-prone, sensitive skin
Each creamy five-ounce bar of goat milk soap is handmade and contains one ounce of raw goat milk fresh from the goats on the Jonas farm. Cured naturally for six weeks, every hand-cut bar is unique in appearance, size and color and weighs between five and six ounces. These generously-sized bars are presented in a cotton bag that is hand-stamped with the scent.
Goat Milk Stuff™ is based in Charlestown, Indiana, and markets natural goat milk soaps. Goat Milk Stuff™ and GMS™ are trademarked brands and assure the finest quality of product and value. Look for Goat Milk Stuff™ Goat Milk Soaps, GMS Lip Balms, GMS Lotions, GMS Bath Bombs and GMS Laundry products that are environmentally-friendly and produced, marketed and priced responsibly to offer consumers the finest Goat Milk Soaps and related bath products in America.
Online at http://www.GoatMilkStuff.com, the Jonas' company markets a full range of products that are quickly shipped directly to consumers. The Goat Milk Stuff™ website also lists retail stores across America where shoppers can find Goat Milk Stuff™ products. Media contact is Brian Dobson at DobsonPR.com or bd(at)dobsonpr(dot)com.
# # #