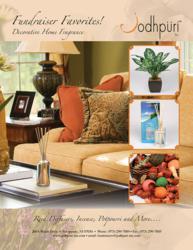 Jodhpuri's new product fundraiser makes fundraising for school clubs much easier. I would definitely recommend it to any school.
Parsippany, New Jersey (PRWEB) April 24, 2013
Each year, thousands of schools, clubs, religious institutions, and non-profit organizations across the United States raise funds through bake sales, car washes, and other means. Often times, these events aren't enough to cover all of the organization's expenses. To help alleviate the burden of fundraising, a highly renowned home fragrance company has created an exceptional product fundraiser that lets the fundraising organization keep 50% of the sales.
Jodhpuri Inc., a home fragrance company well-known for making beautiful and fragrant potpourri blends and high quality artificial flowers, is bringing some of their exceptional products to schools and non-profit organizations nationwide.
The 25 products in Jodhpuri's fundraiser range in price from $8-$26, with an average price of about $16, allowing clubs to reach even the most ambitious fundraising goals quickly. For example, In order to reach a fundraising goal of $500, an organization would only have to sell around 65 items – much less than with many existing fundraiser options.
Aside from keeping 50% of sales, why choose Jodhpuri's fundraiser over anyone else? The answer lies in the science behind Jodhpuri's fragrance products – unique smells. Smell is one of humans' greatest senses. The scent of a certain fragrance can bring back the most treasured memories, or make even the most mundane tasks more bearable. Also, scent has a huge effect on mood. Pleasant fragrances can contribute to feelings of relaxation and happiness, while bad smells might lead to feelings of irritation or anger. Jodhpuri's exceptional fundraiser catalog, which includes high quality potpourri, reed diffusers, artificial greenery, and more, will hook customers on the power of scents and keep them eager for the following year's fundraiser.
For more information on Jodhpuri's new fundraiser, visit http://www.jodhpuri-inc.com/fundraising, or email fundraisers(at)jodhpuri-inc(dot)com to receive an email version of the fundraiser catalog.
Jodhpuri also offers corporate gifts, as well as gifts with purchase options to various companies. Email dan(at)jodhpuri-inc(dot)com for more information.
Jodhpuri Inc. is headquartered in Parsippany, NJ, and has been in business for over 23 years. Jodhpuri is a leading manufacturer and distributor of home fragrance and décor products, such as potpourri, incense, artificial greenery, and other related items.