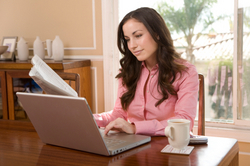 More people are more comfortable with shopping online, or paying their bills online, so it's natural that they're also more open to raising funds online
Los Angeles, CA (PRWEB) September 18, 2008
As FundraisingIP.com celebrates its first year online, its founder is recognizing an upward surge in the number of people showing interest in harnessing the power of the internet to help their groups, causes and organizations raise needed funds.
M. Meegan created FundraisingIP.com when she found that there were few resources for people starting out in fundraising, especially online fundraising.
'There was little information available, especially for raising funds online,' she said. "People in charge are often volunteers and have never run a fundraiser before. They're missing critical information that could help them succeed. FundraisingIP.com can help."
The site launched in August 2007 to fill that void and provide valuable fundraising information. Since the launch, Meegan said interest in online fundraising has been steadily increasing. School and youth organizations, in particular, are discovering the power of online fundraising, she said.
"Parents are growing tired of conventional fundraising ideas and are looking for different options," Meegan said. "Selling candy, wrapping paper and washing cars might be the status quo, but this old-fashioned way of fundraising is losing popularity."
With schools now back in session, volunteers are looking for new ways to earn money. FundraisingIP.com wants to help them with free advice.
"If the successes of online walk-a-thon fundraisers for Relay For Life and the current political online fundraising campaigns are any indication, then raising funds online might become one of the most lucrative fundraising ideas for schools and other groups, as well," Meegan said. "As more parents cite safety concerns with fundraisers that require their kids to sell by going door-to-door, this newer, high-tech vehicle for raising funds is providing a safer option with endless opportunities to raise funds."
Beyond the safety factor, online fundraising also offers a greater level of convenience for parents, Meegan said. This, she believes, is helping online fundraising grow in popularity.
"Let's admit it; many of us parents buy the fundraising products ourselves, just so we don't have to hassle our relatives and co-workers or deal with the additional tasks of collecting money and distributing the orders," Meegan said.
Meegan and her team draw from their own fundraising experiences, other fundraising professionals and volunteers and also website's visitors' input, when creating the many helpful articles about everything from marketing a fundraiser to writing donation request letters. Currently, they are focusing increasingly on articles about online fundraising in general and online fundraising ideas.
"More people are more comfortable with shopping online, or paying their bills online, so it's natural that they're also more open to raising funds online," Meegan said. "Another telling sign for us that online fundraising ideas are becoming more popular, is that one of the most popular articles on the site is titled, Raise Funds Online With Or Without Your Own Website."
While online fundraising might not always be appropriate for younger student volunteers, Meegan said teen and adult volunteers can leverage social networking and sharing sites to their advantage.
"Volunteers can use their profiles and apps on sites like Facebook.com, Twitter.com and MySpace.com to let their 'friends' know about their fundraising ideas and projects and link directly to their group's fundraising site," she said. "Organizations can set up online hubs at sites like iGive.com, or social sites like SecondLife.com or YouTube.com to attract followers to their cause and increase donations."
Another option that has become quite popular in the online fundraising arena is the establishment of online stores, she said. Volunteers can create stores to sell t-shirts, calendars and other products for their group through sites like Cafepress.com, or eBay.com.
"There are many online fundraising ideas out there that don't require your group to have a website," she said. "However, having a good size e-mail list or subscriber base is key to keeping supporters informed and to assure success with your fundraising campaign."
As this trend continues to grow, Meegan said she and her team are looking forward to another great year of helping others learn about the potential online fundraising has to offer.
About FundraisingIP.com
FundraisingIP.com was founded in 2007 to provide fundraising information and guide people in their fundraising campaigns, including online fundraising campaigns. People are invited to give feedback and share their experiences and ideas with fundraising for schools and other causes. The site is expanding into an online community so people can share their insights on running a successful fundraiser.
###