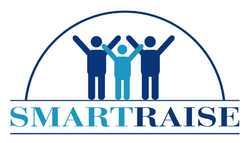 The fact that it's completely free to raise money at SmartRaise makes it a no-brainer for organizations with fundraising needs
New York, NY (PRWEB) October 17, 2007
This holiday season, Americans will donate billions of dollars to charities and community organizations. Unfortunately, however, many people can not afford to make large donations during the holidays. This problem struck a chord with public school teacher Rich Morrison, and it led him to envision a new and innovative program that could revolutionize the world of charitable giving.
Morrison's vision has come to life in a free fundraising program called SmartRaise.com. "The idea is simple," says Morrison's former student and SmartRaise co-founder Robert J. Moore. "We've joined with hundreds of leading online retailers to set up a large shopping rewards program. Whenever a SmartRaise member shops at one of these online stores, a percentage of their purchase is donated to the cause of their choice."
Although SmartRaise.com has been online for less than a month, hundreds of charities, from national organizations to local school groups, are already fundraising through the site.
"The fact that it's completely free to raise money at SmartRaise makes it a no-brainer for organizations with fundraising needs," says Morrison. "And it's a no-brainer for shoppers, too. You pay the same prices you always would and get to do some good whenever you shop online."
Organizations of any size can raise money at SmartRaise. It is 100% free for organizations and shoppers to join. Complete information can be found at http://www.smartraise.com.
###