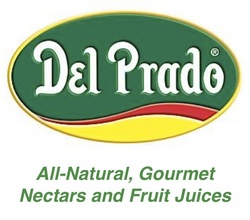 As MAPA Imports builds sales and distribution of Del Prado all-natural nectars and fruit juices in California and the U.S., it is dedicated to supporting local charities
San Francisco, CA (PRWEB) December 10, 2009
Del Prado Gourmet Nectars and Juices is grateful to announce that it has been able to partner with so many social service agencies in the Bay Area and California in 2009. During 2009, Del Prado has been able to donate over 665 cases of all-natural nectar and juices and $6,600 as it helped sponsor local charity fundraising events including:
San Francisco Food Bank
L.A. Food Bank
SillyWalks for Hunger
St. Anthony's Foundation
YWCA, Chinatown Youth Program
State of California EDD
March of Dimes
Raley's Supermarket
TwestivalSF: Operation Smile
TwestivalMV: Silicon Valley Children's Fund
3-Day Cancer Walk
Ronald McDonald House Charities in SF, OAK, and Palo Alto
"As MAPA Imports builds sales and distribution of Del Prado all-natural nectars and fruit juices in California and the U.S., it is dedicated to supporting local charities," explained John Gallagher, grandson of Ricardo Chiari, one of the founders of Del Prado in 1958. 
Within MAPA's annual budget is a vital Social Responsibility segment. "We believe that every business large or small has an obligation to contribute a portion of its profits to a charity of their choice," explained Gallagher. "More and more consumers have formed a partnership with Del Prado gourmet nectars and juices not only because of the outstanding quality, but also because they know they are directly helping a great charity."
In fact, MAPA Imports, LLC, is inspired by the good works of Newman's Own Foundation. Donations from sales of Del Prado nectars and juices imported to the U.S. by MAPA Imports, helped create and continues to support "The Children of Ayacucho" charity. Father Antonio uses the funds to build schools, dorms, and orphanages in Ayacucho, Peru, as documented in Oprah's Angel Network. MAPA Imports hopes to expand its philanthropy worldwide. 
ABOUT DEL PRADO
Del Prado Gourmet Nectars and Juices, is a 50 year-old family-owned business based in Panama. A leading producer of natural nectars in Central America, Del Prado was the first Hispanic manufacturer to refuse high fructose corn syrup sweetener, instead using its own estate grown cane sugar.
Imported and distributed in the U.S. by MAPA Imports, LLC, Del Prado Gourmet Nectars and Juices are available in the Bay Area at CVS, Rite Aide, Walgreens, Berkeley Bowl, Parkside Farmers' Market, Woodlands Market, Mill Valley Market, Sonoma Market, Harvest Market, and other fine stores. Contact Mapa Imports at (415) 418-0951, or visit, http://www.mapaimports.com. Follow Del Prado on Twitter @delprado.
EDITOR CONTACT:
John Gallagher, MAPA Imports LLC, 415-418-0951, info(at)mapaimports(dot)com
Bill Gram-Reefer, WORLDVIEW, 925-323-3169, reefer(at)worldviewpr(dot)com
###