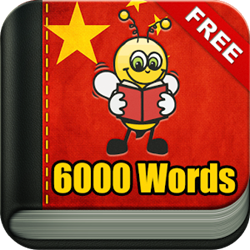 FunEasyLearn Launches Learn Chinese 6000 Words Vocabulary App
(PRWEB) June 12, 2014
FunEasyLearn is a pioneer in developing language learning apps. The app developer has just launched its new Learn Chinese 6000 Words vocabulary app to assist all those Android users interested in learning Chinese language the fun and easy way. It is available for download on Google PlayStore.
Download the app at https://play.google.com/store/apps/details?id=com.funeasylearn.chinese.
Learn Chinese 6000 Words has already started creating a buzz in the app market, thanks to the popularity that the previous apps from FunEasyLearn created. The app supports Android gadgets with >800MHz CPU, >HVGA resolution, >512MB RAM, OpenGL ES >v2.0, Android operating system version >2.2, and CPU architecture ARMv7 minimum. The app features 6000 words with images to depict words, pronunciation recordings by native speakers, and phonetic transcriptions.
Talking about the new app launch, the chief developer of FunEasyLearn stated - "We are delighted to launch the new Learn Chinese 6000 Words vocabulary app- another addition to our already existing range of apps. We have many language learning apps. All words have professional native translation in 24 languages. Each app's interface supports 24 languages. Get the app for free download from Google Play Store."
Ever since it has been launched, Learn Chinese 6000 Words has seen a good amount of downloads with excellent user ratings. Besides Chinese, there are few other popular learning apps in this line, including those for learning English, Korean, Spanish, Polish, French, Garman, Italian, Russian, and Romanian.
When asked what has fetched their language learning apps the popularity they have gained today, the chief app developer replied - "The intuitive design, user friendly interface, and ease of learning are the main aspects that have made our apps so popular in the app market today. Further, all our line of learning apps is absolutely free to download, thus giving users a chance to try it without any investment. We look forward to extend our offering further by the end of this year."
Those interested in learning new languages can download these apps from Google Play Store right away.
About FunEasyLearn
FunEasyLearn is a pioneer in developing new learning apps, thus assisting users to learn languages the fun and easy way.
For more info, log on to http://www.funeasylearn.com/.