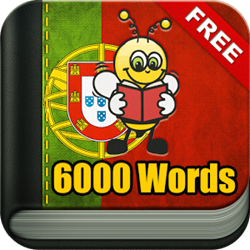 Learning Portuguese Made Easier with 'Learn Portuguese 6000 Words' Android App
Worldwide (PRWEB) July 24, 2014
Fun Easy Learn is an established company which has been introducing various educational apps. Those apps help people learn different foreign language in an innovative way. They have now launched a new android app for learning Portuguese easily in the form of 'Learn Portuguese 6000 Words'.
This Android app features 6000 words with images to depict words, native speakers' pronunciation recordings and phonetic transcriptions. Its vocabulary has 15 thematic topics and 140 subtopics. This app also comes with several test games to select from, making it more fun. As a result, peole can learn Portuguese in a simple and easy way using this app.
Announcing the launch of Learn Portuguese 6000 Words at a press meet, a senior app developer of the company stated, "We're happy to announce the release of Learn Portuguese 6000 Words. The launch of this new android app will benefit Portuguese learners. It brings an easy way for people to learn Portuguese without going to classes. Like our other apps, this is also free to download. Make the most of this and learn a new language right away!"
Besides Portuguese, people can also use Fun Easy Learn's language-learning apps to learn many other foreign languages like Spanish, French, Polish, Italian, German, and more. The intuitive design of these apps makes the whole learning process a pleasure for learners.
Talking about their team, the app developer stated - "We have a highly qualified team of developers who can provide you high-quality educational apps. Fun Easy Learn is the easy and fun new way to learn Portuguese - whether you like listening music from other countries, travelling abroad, working for an international company, or chatting with foreign friends, this app can be your gateway to enjoying what you love in Portugal culture."
Download the Portuguese language learning app from Fun Easy Learn website.
About Fun Easy Learn
Fun Easy Learn is a leader in developing various language learning android apps, thus making the whole language learning process fun, simple and easy.
Log on to http://www.funeasylearn.com for more info.