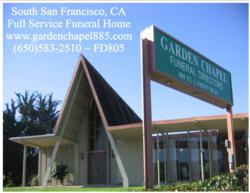 We provide a nice, calm garden atmosphere and are now celebrating more than 40 years of business in serving all families with dignity and reverence
San Francisco, CA (PRWEB) January 27, 2012
As Garden Chapel Funeral Directors celebrates its 41st anniversary this year, it would like to assure the public that it will continue to provide dedicated service in helping families honor their dearly departed. The Bay Area funeral home consistently strives to deliver excellent services with various amenities and premium facilities, all while committing to give clients genuine care and the highest level of personal attention.
"We provide a nice, calm garden atmosphere and are now celebrating more than 40 years of business in serving all families with dignity and reverence," said Al Banfield, manager and funeral director at Garden Chapel. "The goal of Garden Chapel Funeral Directors is to serve each family with the dedicated personal service they deserve and to help each family create a unique celebration of life for their loved one."
Since 1970, Garden Chapel in the Bay Area has provided traditional, memorial and cremation services to bereaved families throughout the San Francisco Bay Area. The funeral home always attends to the specific needs and requests from all faiths, cultures and traditions. Furthermore, Garden Chapel offers a variety of adaptable packages at affordable rates.
For more information about any of Garden Chapel Funeral Directors' products or services, call 650-534-2604, view the funeral company on the web at http://www.gardenchapel885.com or visit 885 El Camino Real in South San Francisco.
About Garden Chapel Funeral Directors
The caring and experienced professionals at Garden Chapel Funeral Directors are devoted to providing compassionate service while following the traditions and requests of families. Its funeral counselors speak English, Spanish and Chinese, and are on hand to guide and support family members through their grief and recovery. The chapel provides solemn and personalized funeral services to assist families in commemorating their dearly departed in any manner they wish.
Garden Chapel Funeral Directors is conveniently located at 885 El Camino Real in South San Francisco and is easily accessible to most of the Bay Area.
###