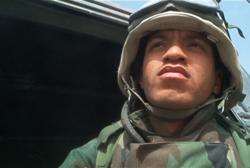 Certainly, extraordinary lives deserve recognition outside the norm.
Southfield, MI (PRWEB) July 29, 2012
Telly Award winning-lead cinematographer Walter V. Marshall has a passion to help people when they hurt, especially during the bereavement process. With 10 years of experience, his work exudes more than just mediocre talent. This recent venture, Legacy Video Services, is already proving beneficial to those in mourning. Using core Marine values, it is Marshall's mission is to make the transition comfortable for those who wish to cherish precious moments during funerals, and humble strides are taken to ensure needs are met through videography and creative imaging.
Marshall is an Iraqi War Veteran with three Emmy Nominations, proving this combat trained videographer has skills that will far exceed expectations.
After receiving the news that a Marine friend died in a landmine explosion, Marshall took the honor of documenting the memorial service for the fallen Marine's wife and three-year-old daughter. Losing a loved one is never easy. Family and friends must continue daily living knowing their beloved has departed earth. But, there is a way to ensure final goodbyes are gracious and exquisite.
Memories will never be lost once Legacy Video Services caters to specific needs. Although pain cannot be erased, the stress of arranging services during your time of grief can be eased…focusing on creating warm tributes that capture the true essence of family, love and the celebration of LIFE!
Understanding how difficult this time can be, the Legacy team is available to assist in one of a kind creations that grasp loved one's personality. Each package is personalized, showing how extraordinary lives deserve recognition outside the norm.
About Legacy Video Services, LLC
Legacy Video Services, LLC is a video company exclusively for the preservation of memories during funeral ceremonies. Founded in 2009 by Walter V. Marshall to provide professional video services to grieving families. The services provided are: video obituaries, webcasting, ceremony recording, and slideshows.