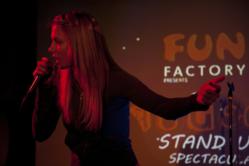 We are delighted to partner with the comedy scene as a means of marketing our brand to mainstream audiences, and extend our exposure
Los Angles, California (PRWEB) November 30, 2011
Fun Factory, the largest manufacturer of adult novelty toys in Europe, recently launched a ground breaking marketing campaign, using the one avenue in which sex can be discussed freely: comedy.
In October, Fun Factory started on a new marketing venture by sponsoring Sam Tripoli's Naughty Show at the Viper Room in West Hollywood. The first-rate lineup included Last Comic Standing's Iliza Shlesinger, Tom Segura, and Steve O, of Jackass fame. Even Fun Factory CEO Joe Curtis himself took the stage in his stand up debut, stating "We are excited to partner with the comedy scene as a means of marketing our brand to mainstream audiences, and extend our exposure". It was a huge success for both the comedians on stage, and as a marketing tool for Fun Factory.
It worked so well, in fact, that Fun Factory has decided to sponsor comedy shows in an ongoing fashion. People making appearances at upcoming shows include such big names as Superhigh Me's Doug Benson, Chelsea Lately's Christina Pazsitzky, and Russell Peters, who's reputation for selling out large arena's at a record pace precedes him. They are expecting the upcoming shows to be even more successful than the first.
By sponsoring the Naughty Show, Fun Factory has opened a new arena for adult novelty marketing. Comedy, and stand up in particular, is one of the few areas where sex can be freely discussed without the social stigma it usually carries. By tapping into this market, Fun Factory, who Sam Tripoli describes as "the Cadillac of adult novelty manufacturers," is cementing it's place, not only as a pioneer in the premium novelty sector, but also in marketing and advertising.
###