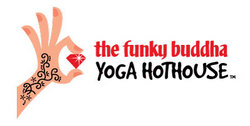 "I'm incredibly excited to bring this style of yoga to Grand Rapids, we are confident that once you try it, you'll be hooked," said studio owner Kerri Reinbold
Grand Rapids, MI (PRWEB) November 18, 2010
The Funky Buddha Yoga Hothouse, Grand Rapids' first hot yoga studio, opens December 1st, 2010 in historic Eastown at 1331 Lake Drive in Grand Rapids. Hot yoga is known for its invigorating style that appeals to yoga enthusiasts and anyone that wants to improve their fitness level and well being. "I'm incredibly excited to bring this style of yoga to Grand Rapids, we are confident that once you try it, you'll be hooked," said studio owner Kerri Reinbold.
Conveniently located between East Grand Rapids and Downtown on Lake Drive so most people would be within 10 minutes, classes will be held in Eastown's Boland Building, which was completely renovated in 2009 and has been LEED Silver certified. The studio features a large, light filled, open practice space with natural cork floors, surround sound, state of the art heating system, changing rooms, hot yoga boutique, and plenty of free parking behind the building.
To celebrate its grand opening December 1st, the studio is offering a new student special of 30 days of unlimited yoga for $39. "Students will be able to experience a style of yoga that is incredibly popular at an irresistible price" said studio owner Kerri Reinbold. Memberships and class packages are also available to students who wish to make the Funky Buddha Yoga Hothouse their yoga home. To take advantage of the new student special and see what Grand Rapids has been missing buy online.
Studio owner, Kerri Reinbold, yogi since 2003, Registered Yoga Alliance Teacher, and student of internationally acclaimed and best selling author Baron Baptiste, plans to offer an array of classes at The Funky Buddha. All Funky Buddha classes are Baptiste style which is a fun, flowing, dynamic, and challenging style of yoga practiced in a room heated to a minimum of 90 degrees. Baptiste style classes produce extraordinary results for all levels of students and help to build strength, torch calories, and transcend stress. The Funky Buddha Foundations class for beginners will provide a solid foundation to take their practice to the next level. Students of the Funky Buddha Power Vinyasa class will flow and sweat their way through a cleansing and cardiovascular 75 minutes.
On Friday evenings, it gets even funkier with the Shake Your Asana class. This class focuses on heat with a beat as students will practice the Funky Buddha Power Vinyasa flow to the best of world, electronic and hip-hop. To end the weekend on a mellow note, a Flowtation class of half meditation and half Funky Buddha Power Vinyasa is set to candlelight and offered on Sunday.
About The Funky Buddha - The Funky Buddha is a hot Yoga Studio located in eclectic Eastown. Our mission is to empower people of all ages and physical abilities to their own personal transformation through the practice of Baptiste Power Vinyasa, a fun, dynamic, flowing style of yoga. In practice, students are given the opportunity to exceed themselves by going beyond their previously perceived limits of strength and flexibility in body and mind. The element of heat is both healing and purifying. Our teaching aims at aligning students with their true selves, creating possibility, and fostering pure joy one student at a time. This is not yo' momma's yoga, but we're certain she'll endorse it.
###