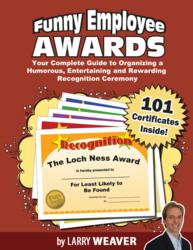 Give a manager or team leader the first funny award to show employees that management has a sense of humor.
Durham, NC (PRWEB) December 05, 2012
The office party is making a comeback. But gone are the days of $10,000 ice sculptures, swag bags full of the latest tech gadgets and a pop diva performing in the atrium. In this challenging economy, corporate event planners face the tough assignment of adding more fun to the company party on a smaller budget. Comedian Larry Weaver hopes to make the job easier with his collection of over 200 funny awards for staff and employees. His flagship "Funny Office Awards" collection is now on sale at FunAwards.com (http://www.funawards.com/ ).
The best Funny work awards should not embarrass the recipient or get the presenter into trouble with the Human Resources department.
To set the correct tone for a funny staff awards presentation, Weaver recommends starting from the top down. Giving a manager or team leader the first funny award shows employees that management has a sense of humor.
Embarrassing moments at work are a great place to start a list of award ideas. Whether it was walking into the wrong bathroom, wearing two different socks to work, or getting locked in the conference room, these silly stories become the stuff of legend.
Another great source of award ideas are office superlatives or "most likely to" awards. The workplace is full of co-workers annoyances that make for great gag awards. Just be sure the offending colleague is in on the joke.
Sample company awards include:

The Bermuda Triangle Award for the staff member most likely to lose paperwork
The Spammer for the worker most likely to forward annoying emails
The Human Vulture Award for the employee always eating other people's food
Jumpstart a list of funny office awards with Weaver's pre-written printable certificates. They range from "poking light fun" to more traditional appreciation. There are categories and templates for any workplace or type of business around the Globe.
Weaver's funny certificates have been a hit at company Christmas parties in Australia, Canada, New Zealand, South Africa, United States and the United Kingdom.
Available in PDF format for instant download, "Funny Office Awards" packages three funny employee certificates collections into one cost-savings bundle. Plus there is free advice on organizing a humorous, entertaining, and rewarding staff recognition ceremony.
About Larry Weaver:
Larry Weaver is a professional corporate comedian and creator of Funny Award Ideas. For over 20 years, Larry has delighted audiences with a delightful mix of clean, original comedy. He can be heard on Blue Collar Radio or Laugh USA on Sirius XM Radio.
To see funny award certificates samples, visit http://www.funawards.com/