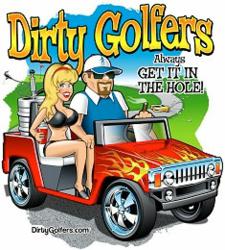 Orion, IL (PRWEB) June 08, 2011
Dirty Golfer's is a brand new website where customers can find unique, funny and innovative gifts for the golfer in their lives. Sly Swinger, also known as 'your dirty golfer' will guide the consumer through pages of great items.
Golfers are not always easy to buy for. They have all the balls they need and usually have their own clubs. Traditional golf shirts are boring. And they sure as heck don't wear ties! Shopping at the Dirty Golfer website will provide pages and pages of great gifts that will make any golfer laugh and be glad to have.
Their line of funny golf shirts are worth the trip to the website alone. They have moisture management shirts (always important to that sweaty golfer) that have the company logo on them, as well as dirty shirts with funny cartoons. These shirts will make any golfer a real hit on the course. They also offer some shirts with the logo of Sly Swinger's home golf country club, Beaverview Country Club. This is surely a country club all golfers aspire to join. Funny golf clothing is always a great gift.
Is your golf buddy getting hitched? Be sure and check out the bachelor golf gifts. Very funny stuff. The funny golf gifts available on this site are just great. Like things a bit racy? Dirty Golfers has a wonderful line of dirty golf gifts as well.
So come on over and visit Sly and Dirty Golfer. They are always glad to meet new people.
http://www.dirtygolfers.com/
###