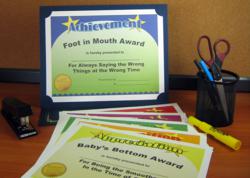 Funny Office Awards are a low-cost and easy way to quickly inject a lot of fun into your office party.
Durham, NC (PRWEB) November 28, 2011
It's time for a new alternative to office party games.
Some have tried office bingo, but good prizes are hard to come by in this economy. The standby office party game White Elephant can drag on for hours and leave coworkers arguing over a blanket with sleeves.
"Funny Office Awards" by comedian Larry Weaver combines 3 popular awards certificates collections into one cost-savings bundle. The package includes "Funny Employee Awards," "Funny Employee of the Month Awards" and "Funny Award Certificates."
All together, Weaver has created over 200 printable awards in PDF format to give to coworkers, employees, volunteers, staff, and teammates. There is something for everyone in the office.
People often assume Weaver got his inspiration from NBC's The Office episode where Michael Scott handed out The Dundies. But he had a real boss who handed out real inappropriate awards at the annual office party. Weaver learned that humor can really backfire if not done correctly, and used the inspiration to create his own line of funny awards for inept managers.
A few sample funny award ideas include:

Bermuda Triangle Award for the desk where things go in but never come out
Foot-in-Mouth Award for always saying the wrong things at the wrong time
Loch Ness Award for least likely to be found
A great source of inspiration for funny awards comes from embarrassing moments at work. Whether it was an email sent to the wrong recipient, a resume left on the printer, or a quick snooze during an all-hands meeting, these stories become the stuff of office legend.
Funny Office Awards are a low-cost and easy way to quickly inject a lot of fun into any office party.
About Larry Weaver:
Larry Weaver is a professional comedian and creator of Funny Award Ideas. For over 20 years, Larry has delighted audiences across America with clean, original comedy. He has shared the stage with entertainment legends Chris Rock, Ray Romano, Faith Hill, "Weird Al" Yankovic, and many others. You may have heard him on Blue Collar Radio or Laugh USA on Sirius XM Radio.
To see funny office awards samples, visit http://www.funawards.com/office-awards/
###