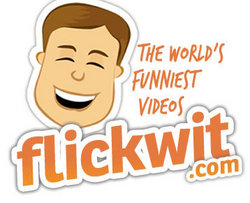 one central place for all the funniest videos on the planet, ROFLMAO
Boulder, CO (PRWEB) April 1, 2011
Flickwit (http://www.flickwit.com) is a video sharing website where users upload and share funny videos which are then rated by the community in a mission to find the World's Funniest Videos. The videos are rated on a scale from "Not Funny" to "ROFLMAO" (Roll on Floor, Laughed My "you know what" Off) where the most highly rated videos become the world's funniest within a particular time frame. It answers the question "What is the funniest video in the world?"
Flickwit's aim is to establish itself as "the" place to visit to find the World's Funniest Videos, covering various channels and themes including home videos, commercials, jokes, pranks, stand-up and funny video compilations. Flickwit is a place for people to go to and have a really good laugh without having to search the internet nor look through hundreds of videos to find the funniest. It is one central place for all the funniest videos on the planet, ROFLMAO!.
Flickwit's design was kept simple for easy navigation and has a horizontal scroll bar allowing users to view through thumbnails, all on one home page.The videos can be shared with friends using most of the popular social sharing applications and can be linked or embedded on other websites or blogs. Registered users can comment on videos, add their favorite funny videos videos to their own play-list and, of course, rate videos uploaded by others. Flickwit's menu lets users browse the videos by Funniest, New and Unrated and the Most Favorite over a specific period and within a particular channel.
Flickwit also introduces friendly competition into the act of uploading one's own video, as users compete to see who's video will be rated as the funniest by the voting community and get the bragging rights that come along with such acclaim.
At the end of every month the funniest videos are announced as the Funniest Videos in the World for that month with the top rated video receiving the title - "Funniest Video in the World!" The monthly top 5 compilations are shown on their blog where you can also find the best and funniest video collections from their website.
Laughter really is the best medicine and Flickwit is a place where you can count on a good dose of it every time.
###