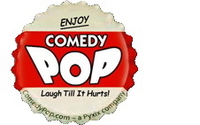 Our hats are off to these comedians for sharing their funny videos and refreshing perspectives on life.
Los Angeles, CA (PRWEB) October 22, 2007
Pyxix ComedyPop.com announces that Tina Kim has won the $1,000 grand prize in its online battle of funny videos.
Kim's hilarious stand-up comedy video clip, "Asian Lovers," was selected best of the four finalists by fans who voted online at ComedyPop.com. Fans loved her bold style and expert timing which never fail to excite hysterical laughter.
"It feels fantastic to be ComedyPop's first champion! I am so honored," said Kim. "ComedyPop.com is a great website and I am so proud to be a part of it. I like that it gives opportunities to comics who might not have had the exposure before. I also need the money -- I'll buy some fancy underwear!"
"Laughter is an elixir that humanity can use more of," remarks Amit Tripathi, President and CEO of Pyxix Corporation, the parent company of ComedyPop.com. "Our hats are off to these comedians for sharing their funny videos and refreshing perspectives on life."
The first "Battle of Comedians" was so successful that ComedyPop.com is already planning a second online competition of comedy video clips, announced Creative Director Sara Millman.
Funny video clips from four contenders made it through three rounds of the Battle of Comedians to get to the grand finale. In addition to Kim:

In second place was Del Harrison, whose wit and warm stage presence are smooth like butter, but packs a punch when you least expect it.
In third place was Erica Doering with her saucy piece the '"Early Bird" delightfully mocking "morning people."
In fourth place was Sue Kelly who delivers hilarious sarcasm without apologies and isn't afraid to engage with her audience.
About ComedyPop.com and Pyxix Corporation
Pyxix Corporation launched ComedyPop.com last year to provide high quality entertainment to a global audience. ComedyPop.com invites artists and fans from around the world to watch, rate and submit top-notch comedy material. ComedyPop.com features funny video clips, political satire, funny animation, funny music, comedy sound clips, cartoons and funny photos.
Los Angeles-based Pyxix Corporation, "Connecting Artist with Audience," is a diversified media company that harnesses content, technology and services to create and deliver high quality original creative content. Pyxix, pronounced "pik-ses," produces feature films, short films, video clips, scripts, education, documentaries and commercial programs for traditional, online and mobile entertainment. Pyxix channels include ComedyPop.com comedy channel, DocuPyx.com documentary channel, UrbanChillers.com horror channel and PyxNet global artists network. For more information, visit http://www.pyxix.net.
PyxixTM, ComedyPopTM, DocuPyxTM and UrbanChillers® are trademarks of PyxixTM Corporation.
Press contact:
Hellena Smejda
Pyxix PR Director
[email protected]
+1 (352) 875-8156 (Florida)
# # #