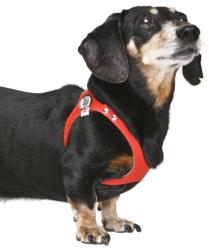 Form affects function and function affects health! Buddy Belt enhances proper function and health. - Dr. Leo K. Rosenberg - Certified Animal Chiropractor
Houston, Texas (PRWEB) June 11, 2013
Funny Fur, a leading online and Houston luxury pet boutique, is offering a special promotion on Buddy Belt Dog Harnesses during the month of June. Customers can enjoy 20% off Buddy Belt dog harnesses and accessories both in-store and on FunnyFur.com.
Originally designed for a miniature Dachshund named Buddy, this dog harness was devised to prevent the coughing exhibited when he wore a traditional dog collar and pulled on his leash during walks.
Many dog collars and harnesses result in back and neck strains or damage from pressure to the trachea when dogs pull on their leashes. The Buddy Belt dog harness has a patented design that reduces stress on your pet's neck and trachea. The design of the harness transfers the pressure exerted from the leash to the weight-bearing chest area, avoiding any potential neck or back injuries.
Dr. Leo K. Rosenberg a Certified Animal Chiropractor says, "Form affects function and function affects health! Buddy Belt enhances proper function and health."
The Buddy Belt is a step-in style harness with an adjustable buckle closure. A sliding O-ring on the back allows for additional movement.
Buddy Belts are available in multiple sizes and colors. Other accessories include matching dog collars, leashes, couplers and harness liners. Handcrafted in Toronto, Canada, the harnesses are made from 100% leather and come in over thirty different colors and textures.
Customized Buddy Belts and accessories can be embellished with rhinestone crystals, pearl studs, or a Texas star concho for an additional $10.00 on Funny Fur's website. Funny Fur also offers a stain guard treatment, which protects the leather from discoloration from water, sweat and dirt.
During the month of June, enter promotional code "BBLOVEFF" at checkout on FunnyFur.com or mention this coupon in-store to receive 20% off all Buddy Belt brand products.
About Funny Fur
Funny Fur is a luxury pet boutique dedicated to helping pet owners find everything they fancy with convenience and ease, all in one place, for their stylish dogs. Happy dogs and their smitten pet parents dig there for fashion forward designer dog apparel and clothes, one of a kind doggy couture wear, fashionable pet carriers, designer dog accessories, dog collars and harnesses, eco-friendly grooming and spa care, novelty dog toys, handmade pet jewelry, organic dog treats, pet furniture, premium and all natural & holistic pet foods and treats, and other fabulous dog gifts and goodies. "At Funny Fur, you can turn your pup into a prince or princess. Everything dog, everyday™. Happy pets dig here™. And that's the way we like it." Funny Fur contributes to local animal rescues and other non-profit organizations dedicated to the wellness of animals.