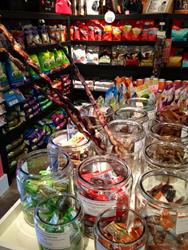 Mixing raw food doesn't have to be a challenge. Come learn some new tips on making raw food for the doggy in your life!
Houston, Texas (PRWEB) February 28, 2014
Funny Fur, a Houston dog boutique and pet supplies store, is hosting their second Cook For Your Pup informational event on Saturday, March 29, 2014 at their River Oaks store location.
With the overwhelming success of their first Cook For Your Pup event featuring one-on-one training with a pet nutrition specialist, Funny Fur is expanding the concept with a group demonstration and teaching customers about the advantages of raw food diets and the array of options available to them.
Cook For Your Pup: Mixing Raw Food Part II will focus on how to create a balanced raw dog food diet at home with fresh vegetables and raw meats. Other important topics that will be covered include preparation and storage tips, recipes and portioning. Recipe books will also be available for purchase.
Pet owners attending will also learn about making raw dog food from scratch using Bravo! Basics. These vegetable-free formulas are comprised of premium meat, ground bones and organ meat combinations and are available in five protein types to create a custom raw diet.
Live demonstrations will take place from 2pm to 3pm at the Funny Fur River Oaks store location. Fresh food samples will be available for pets that attend. Customers will also receive 10% off all raw frozen pet food purchased that day.
Funny Fur specializes in offering premium pet foods and treats that are all natural, free of artificial preservatives, fillers, additives and coloring. Funny Fur believes that diet is the foundation of a healthy pet and through informational events hosted at their store they hope to educate pet owners about the best food options available.
"We are very excited to show pet parents just how easy it is to prepare fresh meals from scratch for their pets! Everything is all natural and has no preservatives. This is especially beneficial for pets with sensitive stomachs and allergies," says Funny Fur associate Karen Clark. "Mixing raw food doesn't have to be a challenge. Come learn some new tips on making raw food for the doggy in your life!"
Please visit Funny Fur's website (http://www.funnyfur.com), store Facebook page, or subscribe to their store newsletter for a full schedule of upcoming events.
About Funny Fur
Funny Fur is a premier pet supply store and boutique specializing in designer dog clothes, dog carriers, and other pet accessories for pet parents. Funny Fur also offers a great selection of all natural and holistic pet foods and treats, raw pet food, and all natural solutions for general household and pet care products. Funny Fur contributes to local animal rescues and other non-profit organizations dedicated to the wellness of animals.