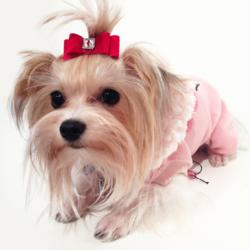 Houston, TX (PRWEB) May 30, 2013
Funny Fur, a leading online and Houston luxury pet boutique, is celebrating Father's Day this year with a special honor to all cat and dog dads. Pet products like dog clothes and designer dog collars make great gifts.
Father's Day is a time to celebrate the unconditional love, dedication and hard work put into loving and caring for children (four-legged and furry or otherwise).
With many people considering their pets as part of the family, the title "Dog Dad" and "Cat Dad" has become a more common reference to the relationship with pets.
Funny Fur encourages celebrating this special bond that owners have with their pets. Here are a few possibilities to shower upon the pet dad in your life this year as recommended by Funny Fur:
Dogs can visually show their owners their unconditional love for "Dad" with an I Love My Dad dog tank top. The design is screen printed on a choice of colored cotton tank tops. Available in big to small dog clothes sizes.
The Pawprints Frame allows pet owners to create an impression of their pet's paw, and then display it next to a photo. This item is available in a desktop or wall frame, in a black or mahogany wood finish to match any home or office decor.
A new dog hoodie, dog bed or retractable lead is not only a gift to Dad, but a gift to the pet too. Even though these products are technically for the pet, it's really the owner who enjoys them.
Funny Fur suggests adding a little note or greeting card signed "from the dog" (or cat) to top off the gift for a memorable Father's Day celebration.
"Remember your dog dad this Father's Day and celebrate the special relationship you have with your pet. It's a great time to remind yourself how important you are to them and how important they are to you. We have some great gift options for Dad, including our best selling product, the Buddy Belt dog harness." says Karen Clark, Funny Fur associate.
Funny Fur is currently featuring Father's Day products on their 'What's New' page on the Funnyfur.com website and will be offering a special 15% off promotion Father's Day weekend. Sign up for their newsletters on the company website for more information.
About Funny Fur
Funny Fur is a luxury pet boutique dedicated to helping pet owners find everything they fancy with convenience and ease, all in one place, for their stylish dogs. Happy dogs and their smitten pet parents dig there for fashion forward designer dog apparel and clothes, one of a kind doggy couture wear, fashionable pet carriers, designer dog accessories, dog collars and harnesses, eco-friendly grooming and spa care, novelty dog toys, handmade pet jewelry, organic dog treats, pet furniture, premium and all natural & holistic pet foods and treats, and other fabulous dog gifts and goodies. "At Funny Fur, you can turn your pup into a prince or princess. Everything dog, everyday™. Happy pets dig here™. And that's the way we like it." Funny Fur contributes to local animal rescues and other non-profit organizations dedicated to the wellness of animals.