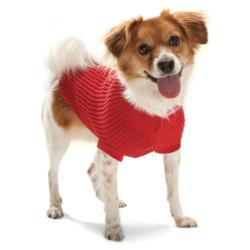 Houston, Texas (PRWEB) November 30, 2012
Funny Fur, a leading online and Houston luxury pet boutique, has just released a holiday gift guide, featuring their top ten holiday products for 2012. This list was compiled to help customers find the best and most popular items this holiday season. Fit for any budget, this gift guide has everything from dog toys to dog beds.
Holiday items that top the list include:
1. Peppermint Stripe Dog Bed by Bowsers
2. Adjustable Tartan Reindeer Antlers for dogs
3. Holiday Pet ID Tags in Sterling Silver
4. FouFou Dog Reversible Santa and Reindeer Plush Dog Coat
5. Bubba Rose Organic Dog Biscuit Cookbook Kit – Christmas Edition
6. Nature Nap Pad in Holiday Colors by West Paw Design
7. Mimi Green Starla Holiday Dog Collars
8. Doggy-Safe Holiday Gift Wrap
9. Christmas Tree 'Piney' Dog Toys by West Paw Design
10. Eco Friendly Reknitz Red Dog Sweater
In addition to these top holiday sellers, Funny Fur also has a large selection of cat specific holiday items, Hanukkah dog products and pet lover gifts. Visit the company's website and click on "The Holiday Shop" for the full selection of Christmas, Holiday and Hanukkah pet products.
Other great gifts for dogs and cats include pet beds, winter dog clothes, organic dog and cat treats, and pet carriers. If you plan on traveling with your pet this holiday, owners might consider travel bowls, blankets and beds, or a dog car seat, harness or other car safety product as a gift. Funny Fur encourages its customers to order holiday items early this year in order to receive them by December 24th.
About Funny Fur
Funny Fur is a luxury pet boutique dedicated to helping pet owners find everything they fancy with convenience and ease, all in one place, for their stylish dogs. Happy dogs and their smitten pet parents dig there for fashion forward designer dog apparel and clothes, one of a kind doggy couture wear, fashionable pet carriers, designer dog accessories, collars & harnesses, eco-friendly grooming & spa care, novelty dog toys, handmade pet jewelry, organic dog treats, pet furniture, premium and all natural & holistic pet foods and treats, and other fabulous dog gifts and goodies. "At Funny Fur, you can turn your pup into a prince or princess. Everything dog, everyday™. Happy pets dig here™. And that's the way we like it." Funny Fur contributes to local animal rescues and other non-profit organizations dedicated to the wellness of animals.