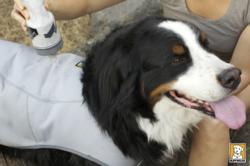 Houston, Texas (PRWEB) April 26, 2013
Funny Fur, a leading online and Houston luxury pet boutique, is gearing up for summer with an outdoor pet safety product showcase. Preparation and planning is key to keeping pets safe during summer months from heat, sun and insects. Funny Fur is actively spreading the word and informing customers about the risks that come with summer outings and recommending important and new pet safety products that can save pets' lives and make owner's lives easier.
Dogs are susceptible to dehydration, heat stroke, sunburn and insect bites during the summer. Funny Fur has some great products to prevent and protect your pet from these summertime woes.
Whether it's a trip to the park, a hiking excursion or a camping trip, the summer heat can affect your dog. Funny Fur recommends keeping your dog hydrated with a portable water bowl or water bottle. The Handi-Drink Portable Pet Water Bottle is a water bottle and a dog bowl all in one compact product. It even comes with a clip for easy portability.
To prevent heat stroke, Funny Fur recommends a dog cooling vest. Cooling vests are made from a special material that absorbs and retains water while keeping your dog dry. As the water slowly evaporates, it takes the heat around it and keeps your dog's core temperature regulated. Funny Fur suggests trying the Dog Cooling Vest for smaller dogs and the Ruff Wear Swamp Cooler Cooling Vest for larger dogs.
Another way to beat the heat is with a delicious and healthy frozen treat. Made with USDA Organic ingredients, Freezy Pups Frozen Dog Treats are an easy to make, refreshing treat. The kit comes with a bone-shaped ice cube tray and one of each flavor mix: Juicy Apple, White Cheddar Cheese, Sweet Potato n' Maple and Chicken Soup.
With heat, comes sun damage. Non-toxic SPF 15 Pet Sunscreen is easy to apply, non-irritating and non-oily. Funny Fur recommends this for dogs with light colored skin and noses to prevent painful burning and peeling.
Dog's eyes are susceptible to sun damage just as human's eyes are. A dog hat with a brim or Doggles sunglasses are options to keep out harmful rays.
Insects can make both the dog's and the owner's lives miserable. Not only are bug bites irritating, itchy and/or painful, but they can transmit deadly diseases. There are many options out there to keep your dog comfortable. The Dirty & Hairy Outdoor Shampoo and Spray are all natural products infused with citronella to repel bugs. A Funny Fur best seller, Happy Tails' Flea the Scene Skin Soothing Insect Spray alleviates itchy and irritated skin; repels fleas, ticks and mosquitoes; and protects against the sun's harmful rays with a natural sunscreen. Both products are pesticide free and safe if licked off.
A new technology called Insect Shield is an alternative to bug spray. These products have a non-toxic and safe insect repellent bound tightly to fabric fibers, resulting in an effective, odorless insect protection. Insect Shield is available in the following products from Funny Fur: dog crates, dog pens, dog beds, dog hoodies, dog shirts, bandanas and outdoor blankets.
It's important to be prepared when venturing outdoors with your pet. Before heading out, Funny Fur recommends making a checklist for both owner and dog. Keeping dogs safe from heat, sun and insects can be made easier with these cool pet products from Funny Fur.
About Funny Fur
Funny Fur is a luxury pet boutique dedicated to helping pet owners find everything they fancy with convenience and ease, all in one place, for their stylish dogs. Happy dogs and their smitten pet parents dig there for fashion forward designer dog apparel and clothes, one of a kind doggy couture wear, fashionable pet carriers, designer dog accessories, dog collars and harnesses, eco-friendly grooming and spa care, novelty dog toys, handmade pet jewelry, organic dog treats, pet furniture, premium and all natural & holistic pet foods and treats, and other fabulous dog gifts and goodies. "At Funny Fur, you can turn your pup into a prince or princess. Everything dog, everyday™. Happy pets dig here™. And that's the way we like it." Funny Fur contributes to local animal rescues and other non-profit organizations dedicated to the wellness of animals.