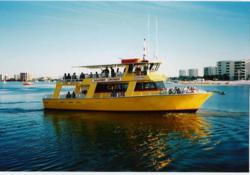 TripShock.com is the #1 Spot for FUN Activities & Attractions!
Destin, Florida (PRWEB) October 22, 2012
TripShock.com offers a large variety of fun activities and attractions the entire family can enjoy. Travel and lodging agency, TripShock.com, is known for their fantastic rates and discounted specials throughout the entire year.
Listed below are the Top 3 activities/attractions rated and recommended by none other than the Destin tourists themselves.
The city of Destin offers Florida visitors the chance to experience the worlds most beautiful beaches and shimmering emerald waters. Take full advantage of the gorgeous gulf coast with a two hour narrated Dolphin Watch and Destin History Cruise aboard one of Olin Marler's 64ft. walk around boats. These boats have an indoor ac/heated cabin area, restrooms and a glass bottom viewing section ideal for the little ones. Encounter various marine life and school of dolphin aboard this enchanting Dolphin Watch and Destin History Cruise. Prices start at Only $20 Per Adult during the month of Oct/Nov 2012.
Another fantastic activity the family is sure to love is Horseback Riding. Stroll through the beautiful trails of 30a, Florida. Trail riding on the Panhandle of Florida just doesn't get any better. Located close to Destin, Florida beaches, Arnett's Gulfside Trail Rides, Stables, and Campground has a perfect horse for everyone. With 13,800 acres of State Forest, there is plenty of riding to fill up your afternoon. For a detailed description and pricing for this activity, please visit TripShock.com today.
Now this event is absolutely ideal for date night or your families last night in Destin, Florida. Cruise the calm coastal waters of Destin with Destin's Only Fine Dining Dinner and Dancing Cruise. This particular yacht features fresh gulf seafood, prime beef and much more, all prepared in a full service galley. Live entertainment and a full bar is available to enhance the experience. An unforgettably romantic evening is just minutes from your fingertips. Book online today at TripShock.com to guarantee a reservation on Destin's one and only Fine Dining Dinner and Dancing Cruise.
TripShock.com is the perfect online travel and lodging agency ideal for families and Florida vacationers on a budget. TripShock.com offers a variety of discounted hotels, activities and attractions from Panama City Beach up to New Orleans, Louisiana.