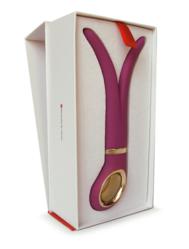 Interest in the company's products has increased as mainstream consumers and retailers are becoming more comfortable with talking about and purchasing pleasure products like the G-Vibe
New York, NY (PRWEB) January 17, 2013
Pleasure product manufacturer Fun Toys is finding success with its recently launched G-Vibe thanks to the product's innovative and revolutionary dual-tip design and high-end look and feel. The G-Vibe recently made its debut at trade shows in the United States, Germany, Ukraine and Russia with both retailers and consumers taking interest and placing orders. 
Additionally, the company landed a new distributor in Australia, the Picone Group, which is helping Fun Toys extend its reach into that country's consumer market. Fun Toys also has distributors in Hong Kong, the Netherlands, Russia, Ukraine and three separate US distributors.
Designed by Jack Romanski, an engineer specializing in silicones for space industry and his wife, the G-Vibe was developed with the help of gynecological experts to create a true ergonomicaly shaped vibrator that could literally adapt to every woman. 
Unlike most vibrators, the G-Vibe splits into two flexible tips to form a curved "V" shape. The tips have a certain length and intensity of compression which perfectly conforms to female anatomy, including attention to G-spot location. 
The G-Vibe is made of high quality, ecologically safe, hypoallergenic, patented premium medical silicone. Quiet but very powerful motors with six vibration modes are located in both tips of the massager. 
"Control buttons are ergonomically located on the handle, which is made of the same material as the main part of the massager," explained the company. "This prevents the vibrator sliding in your hand if you use a lubricant. It also allows you to set an optimal vibration mode, quickly and comfortably. G-vibe is very adaptable: it may be used both for solo-play and by couples."
The G-Vibe comes in several colors including pink, purple and deep rose. Each G-Vibe comes with different plated accents within the oval-shaped handle and rings around base - pink with silver, purple and deep rose with gold. Each vibrator is about 7 x 1,3 inches (18 x 3,5 cm) long and comes with a charger, user manual and storage pouch. The product comes in an attractive Cannes Lion-nominated transformer box designed by erotic artist Elena Mirosedina.
The company has a "How to Use" section on its site to help educate consumers and retailers on how to use the G-Vibe and an entertaining viral video: http://www.funtoys.info/video/
Interest in the company's products has increased as mainstream consumers and retailers are becoming more comfortable with talking about and purchasing pleasure products like the G-Vibe noted the company.
"Call it the 50-shades of Grey effect," said Luis Paredes, publisher of the Business of Pleasure, a trade publication for erotic retailers. "Manufacturers like Fun Toys are poised to take advantage of mainstream consumer's interest and eagerness to purchase and experiment with pleasure products like the G-Vibe because they have done such a great job at making an attractive product that really works and sells."  
Fun Toys encourages consumers and retailers to learn more about the G-Vibe by visiting http://www.funtoys.info