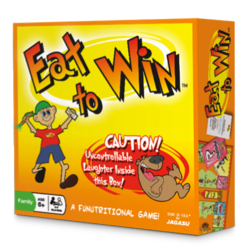 Teachers loved the new Eat to Win Flash Card program for schools.
WHITE LAKE, MI (PRWEB) August 15, 2012
Eat to Win introduced their new FuNutritional Classroom Edition Flash Cards to over 500 attendees at the 2012 Adventist Education Teachers' Convention that took place August 5-8th in Nashville, TN. The theme for the convention was Moving Hearts and Minds Upward. Over 6000 educators from K-12 and Early Childhood schools attended the 2012 Teachers' Convention in Nashville, representing over 900 K-12 and 400 Early Childhood schools in the United States, Canada and Bermuda.
The Eat to Win booth received unprecedented interest from teachers, principals and other conference attendees, with hundreds of attendees leaving calling cards, buying existing games or asking for information to order as soon as they are out of production.
Our Chief Executive Director of Fun, Jammi Roscoe, who attended the convention, said, "Teachers were so excited in anticipation of the completion of our Flash Cards, they tried to buy our prototypes so they could begin using them immediately."
The Eat to Win Flash Cards teach children the value of nutrition, making healthy food choices and exercise using fun interactive games. There are different Flash Card programs for each level of child cognition, from Preschool through 5th Grade. They are expected to be completed this fall and will be available for purchase. Many educators at the Teachers' Convention also purchased the ETW FuNutritional Board Game, which can also be used in the classroom or during enrichment programs.
Chief Executive Chef of AccuTemp, John Pennington, stopped at the Eat to Win booth and offered his praises for the game saying, "Eat to Win games are perfect for schools and a key component to what is missing. Schools are trying to introduce healthier food options, but if the children don't understand why they should eat healthier, they will just pass up the foods offered or bring their own lunch."
With Childhood obesity on the rise, schools are realizing that products such as those offered by Eat to Win are desperately needed. Children will learn at their own level as we make learning fun and they can Game Their Way Healthy!
About Eat to Win:
Eat to Win was created by a concerned mom whose own child struggled with being overweight. Child obesity in America has become a major issue. An unhealthy lifestyle is a common problem among children and adults. Eat to Win was created to help encourage nutrition and exercise through fun and active games. Please share your stories with us on Facebook and Like Us to receive a discount! Our games are in agreement with ChooseMyPlate.gov.