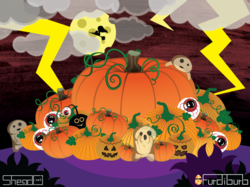 The spirit quest in Furdiburb is coinciding with Halloween perfectly.
Orange, CA (PRWEB) October 16, 2012
Gather around, boys and girls, for Halloween is in the air with Furdiburb, the most popular virtual pet game in the Google Play Store. After vacationing on Earth, Furdiburb's parents accidentally left their helpless baby behind, and it is up to players to adopt him and care for him.
Now, for the entire month of October, plant sprouts can grow carved pumpkins and juicy eyeballs for their lovable alien to munch on. Like celebrating Halloween year-round? No problem! Players can check out the home and furniture store for a Day of the Dead candied skull house for their virtual pet to live in. Gothic-themed furniture (tickle-torture bed, plant pot shaped like an urn, etc) in dark red tones are also available for those with decorating needs.
What Halloween is complete without costumes? Players can apply mysterious potions to mutate their virtual pet's eyes and antenna into odd shapes and colors. There are hundreds of customization combinations.
"The spirit quest in Furdiburb is coinciding with Halloween perfectly. We didn't even plan on that!" exclaimed Danny Ata, co-founder and artist. "We're including a Halloween themed hut for Furdiburb as well. It was actually 3rd place in a poll we had for our Facebook fans. We already designed 1st and 2nd place, which was the castle and a steampunk theme houses. Now the pumpkin chariot awaits release in light of Halloween."
Furdiburb, the virtual pet, is currently in beta. Version 1.0 will be available in Winter 2012.
About Sheado.net
Founded in 2010 by two guys and a gal with the mission of "making the world a happier place - one app at a time". Currently targeting Android™ devices, Sheado.net is dedicated in creating rewarding and enjoyable experiences for users of any age.