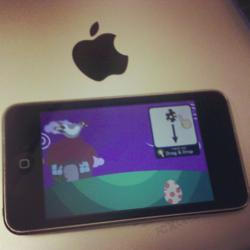 Hopefully this will mean only weeks instead of months before we can have Furdi on iPhones, iPods, and iPads!
Orange, CA (PRWEB) May 29, 2013
Chad Ata, lead developer for Sheado.net, is currently working on porting Furdiburb, the virtual pet, to iOS. "We started developing Furdiburb when Android was just getting started," commented Chad. "This forced us to use the Java programming language, which does not easily port over to the iOS environment. After having done a bit of research on the subject, we've decided to use the PlayN project in combination with the Xamarin / MonoTouch environment in order to port Furdiburb without having to rewrite most of its code. Hopefully this will mean only weeks instead of months before we can have Furdi on iPhones, iPods, and iPads!"
Meanwhile, Danny Ata, artist, and Alice Lo, co-developer and composer, are working on Sheado.net's second game, code named "Evo". "Things are already starting to come together for our next game," remarked Danny. "I've been using a new animation program called Spine, which is going to allow me to animate a ton of things, and I have a good feeling that people who enjoyed Furdiburb are going to love the gameplay in this one. There may even be cameos by Crabidab or Tokori, but it's too soon to tell. I'm definitely looking forward to where our creative process takes us."
Sheado.net also re-designed their Furdiburb store page with a cleaner and less confusing layout. New Furdiburb apparel, posters, and other paraphernalia are available.
About Furdiburb, the virtual pet game
After vacationing on Earth, Furdiburb's parents accidentally leave their baby alien behind. Players take care of their virtual pet by feeding, bathing, and curing sicknesses. The game contains many adventure puzzles as well as action mini-games that allow players to collect spaceship parts so that they may fix up a broken spaceship to return Furdiburb home to his parents.
About Sheado.net
Founded in 2010 by two guys and a gal with the mission of "making the world a happier place - one app at a time". Currently targeting mobile devices - Android™ devices, NOOK Family of Devices by Barnes & Noble, Amazon devices, and iOS devices - Sheado.net is dedicated in creating rewarding and enjoyable experiences for users of any age.