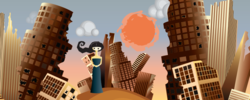 I haven't seen this type of game made with the perspective that we're taking.
Orange, CA (PRWEB) June 27, 2013
Indie gaming company Sheado.net, while working on porting Furdiburb, the virtual pet, to the iOS platform, is working on their next game. The project, code-named "Evo", touches upon the themes of creation and destruction - the cycle of life.
After an apocalypse destroys almost every living thing on Earth, the player is tasked with puzzles and hints to repopulate the planet. The game is still in the early stages, requiring some details to be ironed out. Please note, all images included in this article are subject to change before the final game.
"I haven't seen this type of game made with the perspective that we're taking", mentioned Danny Ata, artist. "Working on something that feels new is always attractive to me. I can't wait to have people try it out and get some feedback."
"For Furdiburb the virtual pet fans that know about making combinations with items at The Factory, this game will seem familiar," commented Alice Lo, co-developer and composer. "We really liked how our fans acted collaboratively on our Facebook page, sharing combos with each other."
When asked about the progress of porting Furdiburb to iOS, Chad Ata, lead developer, exclaimed "I'd say it's about 80% complete! Can't wait to get our virtual pet out there on all those lovely iOS devices!"
About Sheado.net
Founded in 2010 by two guys and a gal with the mission of "making the world a happier place - one app at a time". Currently targeting Android™ devices, Sheado.net is dedicated in creating rewarding and enjoyable experiences for users of any age.
Furdiburb, the virtual pet, i available for Android™ devices, NOOK Family of Devices by Barnes & Noble, and Amazon devices. It is family-friendly, and has garnered fans from all over the world.