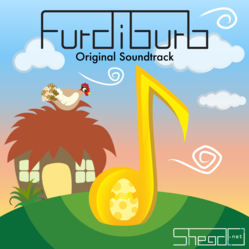 Thanks to [my parents], and to my addiction for video games, I am now able to apply myself as a composer.
Orange, CA (PRWEB) September 14, 2012
The Original Soundtrack album for Furdiburb®, the most popular virtual pet game for Android™ devices, is now available on the Google Play Store.
"Now fans can easily purchase the game's music," commented Alice Lo, Sheado.net co-founder and composer of the Furdiburb soundtrack. "We decide to release the album on the Google Play Store so fans can have a super convenient purchasing option."
The Google Play Store makes purchasing a song from an Android device very convenient with multiple payment options and instant download. "Within seconds you can download your favorite Furdi song and set it as your ring tone!" added Alice.
When asked about her musical experience, Alice responded, "I played piano for 9 years. At that time I preferred to play video games instead. My parents were strict and made a deal with me; if I played piano for an hour, I would be allowed to play with my Genesis for an hour. Thanks to them, and to my addiction for video games, I am now able to apply myself as a composer."
After traveling around Earth, Furdiburb's alien parents were returning to their home planet when their little alien egg rolled out of the spaceship and into the hearts of Earthlings all around the world. Players care for their virtual pet by bathing him, providing for him, and transforming his looks, furniture, and house with fun-themed designs. The primary goal of the game is to travel the engaging lands, go fishing, participate in musical games, grow flowers, collect stars, evade bugs, create objects using combinations, and figure out puzzles in order to accumulate parts to fix up a broken spaceship so that Furdiburb may return home one day.
Furdiburb, the virtual pet, is currently in beta. Version 1.0 will be available in Winter 2012.
About Sheado.net
Sheado.net was founded in 2010 by two guys and a gal with the mission of "making the world a happier place - one app at a time". Currently focusing on Android™ devices, Sheado.net is dedicated to creating rewarding and enjoyable experiences for users of any age.