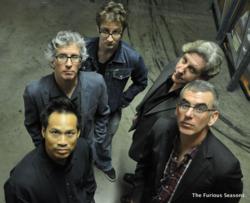 "Steinhart's been a perennial cottage industry goldmine for those who carry torches for soft, finely crafted, windswept pop."
- The Big Takeover
Los Angeles, CA (PRWEB) June 14, 2012
The Furious Seasons release "My Analog Face" (Stonegarden Records - Americana/Alt. Rock) June 19th. This Saturday, June 16th from 9AM - noon, there will be a flash mob filming of The Furious Seasons' new video for "Lets Sweep Together" from their upcoming album, "My Analog Face" at Autry Farmers Market.
Place & Time:
Saturday, June 16th - 9am to 12pm
4700 Western Heritage Way
Los Angeles, CA 90027
The Furious Seasons will also be performing at the Yamshiro Farmers markets on Thursday night June 14th and 28th.
Place & Time:
Thursday June 14th and 28th - 5pm to 9pm
1999 N. Sycamore Ave.
L.A., CA 90068
"At times the band brings an acoustic, folksy-leaning Elvis Costello to mind...But throughout it all, The Furious Seasons are adept at crafting timeless melodic pop." - PopMatters
"In addition to the wonderfully jangly guitars and busy violin a special treat here is David's vocals, at once heartbreaking and supremely confident." - Dagger
The Furious Seasons' latest release, "My Analog Face," combines witty songwriting with spectacular interplay between the band members, creating an initially relaxed album whose subtleties grow over the course of the eleven tracks. The band's predominant songwriter, David Steinhart (Guitar, Vocals), writes vocal tracks so melodious that only through repeated listens do the insightful meanings of his words reveal themselves. David's brother, Jeff Steinhart (Bass); nephew, Nate Steinhart (Guitar); and Bob Gannon (Drums) show clear chemistry. Ray Chang (Violin) adds perfect inflections over the principle melody of each song. David has an extensive and impressive history, making 22 albums over the last 20 years.
"My Analog Face" was recorded at Pacifica Studios with Glenn Nishida and at The Ship Studios with Aaron Espinopza. The album was co-produced by The Furious Seasons' drummer Bob Gannon, and by Scott Campbell. My Analog Face impressively combines inventive pop songwriting and composition with an intelligent, understated style that The Furious Seasons have so effortlessly created and is destined to be another tremendous success in a long line of albums for David Steinhart.
You can learn more about The Furious Seasons and see their latest show dates on their website at thefuriousseasons.com.
For any further information/interviews/exclusives please contact Melissa Zeigler(at)Powderfingerpromo(dot)com.