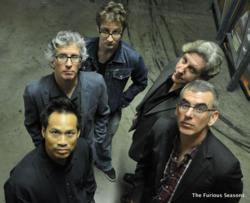 "Steinhart`s been a perennial cottage industry goldmine for those who carry torches for soft, finely crafted, windswept pop" - The Big Takeover
Los Angeles, CA (PRWEB) February 14, 2013
Just in time for Valentine's day, The Furious Seasons release a brand new track and video for "Valentine" from their upcoming album.
Ever been left in the cold on Valentine's Day or maybe just feel that the holiday is more hype than substance? The Los Angeles band, The Furious Seasons, have an answer.
The song and video "Valentine," which is a brand new track from the as yet untitled follow-up to the band's third album, "My Analog Face," (2012) is a country-tinged ballad of a failed Valentine's fling. Acoustic guitar and pedal steel supply the support for David Steinhart's plaintive vocal about love gone sour.
The Furious Seasons features the Steinhart brothers, Jeff and David, whose bands Pop Art, Smart Brown Handbag, and The Furious Seasons have released 21 albums of smart, hook filled, guitar-based pop over their career.
Check out the video on their You Tube channel https://www.youtube.com/furiousseasonsmusic. Buy the single on iTunes and get a free download of their last full length album at thefuriousseasons1.bandcamp.com and at their website thefuriousseasons.com.