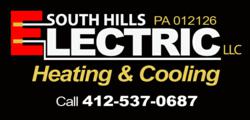 We have stocked our trucks with all the latest furnace repair parts and tools and trained our furnace repair technicians to bring our customers the level of service they have come to expect from our furnace repair business
Pittsburgh, Pennsylvania (PRWEB) October 31, 2011
Well known Pittsburgh heating contractor, South Hills Electric Heating Cooling, is pleased to announce that it now services all brands of natural gas furnaces. "Our Furnace Repair Contractors must be trained and equipped to handle all types of gas furnaces," said Pat Cray, owner of South Hills Electric Heating Cooling.
"We have stocked our trucks with all the latest furnace repair parts and tools and trained our furnace repair technicians to bring our customers the level of service they have come to expect from our furnace repair business at South Hills Electric Heating Cooling." ~ Pat Cray
Some of the most popular brands of natural gas furnaces include the following:

Trane Furnace Repair
Lennox Furnace Repair
Bryant Furnace Repair
American Standard Furnace Repair
Carrier Furnace Repair
Rheem Furnace Repair
Coleman Furnace Repair
Ducane Furnace Repair
Ruud Furnace Repair
Heil Furnace Repair
Some of the most frequent furnace repair problems encountered which results in no heat from the furnace include:
1. Thermostat malfunction from a variety of causes
2. Clogged flue pipes which can cause safety controls to shut down the operation of the gas furnace equipment to eliminate carbon monoxide poisoning
3. Abnormally high temperature or flame roll-out to the burner assembly
4. Lack of indoor air flow from stacking household goods too close to cold air returns
5. Gas furnace control board failure
6. Spark ignition failure on piloted and direct spark systems (thermocouples and pilot assemblies)
7. Hot surface ignitor failure
8. Natural gas valve failure
9. Induced draft blower motor failure
10. Other various switches and limit controls
"What most people don't know is that there are only a few major manufacturers of natural gas furnace equipment in the United States. All the above brands are very similar in design and servicing specifications. We train our furnace repair technicians in general and specific furnace repair specifications and requirements for all gas furnace equipment." ~ Pat Cray
South Hills Electric Heating Cooling is a member of the Air Conditioning Contractors of America which covers all areas of Heating Ventilation Air Conditioning and Refrigeration, both technical and professional.
"ACCA has a longstanding history of representing the professional class of HVACR contractors. Every day, thousands of contractors and design professionals rely on manuals and industry standards developed and written by ACCA to help homeowners, building managers, and sm all and large businesses realize the comfort, cost benefits, and convenience of energy efficient HVACR equipment." ~ Heating Ventilation Air Conditioning Refrigeration section of the ACCA website.
About South Hills Electric Heating Cooling:
South Hills Electric Heating Cooling is located at:
South Hills Electric Heating Cooling
930 Glass Run Rd
Pittsburgh, PA 15236
(412) 537-0687
on the web at http://southhillselectricheatingcooling.com
and by email: patcray(at)southhillselectric(dot)com
South Hills Electric Heating Cooling provides first class electrical, heating and air conditioning services to the greater Pittsburgh area. Since 1993, we have installed furnaces, boilers, heat pumps, air conditioners, electrical systems and hot water heaters. We are licensed, registered certified and insured to work in your home or business. We carry an A+ rating from the Better Business Bureau and are registered with the PA Attorney General License #PA012126.
###