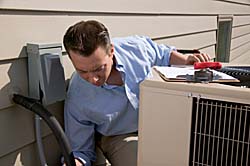 When it comes to heating equipment maintenance and repairs to your home or business heating system, it does not pay to procrastinate
So. San Francisco, CA (PRWEB) December 15, 2011
So. San Francisco furnace repair company, Peninsula Heating By James Byrne offers a few handy tip on why maintenance is very important to keeping a heating and cooling system running correctly and running for a long time.
"When it comes to heating equipment maintenance and repairs to your home or business heating system, it does not pay to procrastinate," says Patricia Bryne of Peninsula Heating By James Byrne. "The longer you put off the maintenance, the higher the probability that your heating system will break down or your heating and cooling contractor will be unable to make an emergency repair when you need it."
A routine maintenance check should be either done by the homeowner or scheduled and be completed by the experienced and professional folks at Peninsula Heating By James Byrne. It is important that if a homeowner attempts the work on their own, they should have some experience working with heating and cooling units.
Peninsula Heating By James Byrne offers service agreements in which they will come to a home or business once or twice per year to inspect a furnace and/or air conditioner. Service agreements are a comfort, especially when faced with the prospect of waking up in the middle of a cold winter night to a freezing home. During the coldest days, service techs of companies without a service agreement in place can often take many days to respond.
Routine fall maintenance will switch on and inspect all equipment. Running a heating system early will help to find any problems before it becomes a major problem for the residents of the home. If one is doing the check on their own, they should check fan belts, the pilot light, humidifier and media pad. It is important to know the age of the furnace because older ones often have a pilot light that is on at all times while newer models light themselves when the furnace kicks on.
For an oil heat system, people are encouraged to change fuel filters and service burners if needed and check the fuel tank for water content and fill it, if needed. Forced air systems should have their grills removed and be cleaned out by vacuum. On older forced air systems, the entire duct work should be cleaned every couple of years. Inspect flue pipe for blockages, leaks, holes and make sure vent cap is in place on roof.
For air conditioners, it is important to clean the outside unit of a central air unit and clear any debris, leaves and other items. For wall-mounted units, if it is possible, the best course of action is to remove it and store safely away for the winter. At the very least, close the vents and cover with an air conditioner cover.
For more information on Peninsula Heating By James Byrne or to inquire about their latest coupons and specials, call 650-763-1016 or visit them online at http://www.peninsulaheating1954.com. They are located at 513 Linden Avenue South in San Francisco. They always offer free estimates and can provide off-hours appointments, such as after 6 p.m. and weekends.
About Peninsula Heating By James Byrne
Howard Byrne founded Peninsula Heating and Cooling in 1954 and today they serve South San Francisco and the Bay Area under the name of Peninsula Heating By James Byrne. They offer installation, maintenance and repair of name brand furnaces, air conditioning units, whole house fans, sauna systems, boilers, standard and on-demand water heaters. They offer free estimates and carbon monoxide testing for both residential and commercial buildings. In addition to providing HVAC ductwork and vent design, they also provide inspection certifications for real estate escrow closings. The specialized heating contractors provide quality HVAC systems and furnace repair.
###