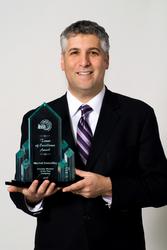 More than ever it's important for members, like ExecuStay, to share our experience and resources so that our trade associations can continue to promote and grow the industry
Bethesda, MD (PRWEB) March 15, 2010
Marriott ExecuStay®, a leader in temporary housing, corporate housing and furnished apartments, won two Tower of Excellence awards at the Corporate Housing Providers Association Annual Conference and Expo in San Diego, Calif., the Company of the Year Award and the Volunteer of the Year Award.
"We're honored to be recognized by our industry peers with this prestigious award," said Adam Sherer, CCHP, Marriott ExecuStay vice president. "The ExecuStay mission has always been to create and sustain the quality brand and service standard by which we are known. In addition, this award is a reflection of every one of our extraordinary associates, owners and franchisees. They deserve this coveted recognition for their incredible dedication to exceeding our customers' expectations, driving innovation throughout our business, and helping to advance Marriott ExecuStay as an industry leader," he said.
The Company of the Year Award acknowledges an outstanding member who has demonstrated commitment and excellence within their company and the industry. According to the judging panel, ExecuStay was selected because of its advancements in technology including real-time, online booking and free wireless Internet access. Also noted was ExecuStay's consistent customer service focus with guest satisfaction scores reaching the highest-ever levels for intent to recommend the brand to others.
Marriott ExecuStay franchisee and newly appointed CHPA board member, Piper Ayala, CCHP, received the Tower of Excellence Volunteer of the Year Award for her service to CHPA since its founding in 2002. This award honors an individual's professionalism, commitment and hours of volunteer time to make a difference in the Association.
"More than ever it's important for members, like ExecuStay, to share our experience and resources so that our trade associations can continue to promote and grow the industry," said Ayala. "Through my volunteer efforts with CHPA, I've had many opportunities to help shape the future of this organization and have experienced a tremendous amount of personal satisfaction that comes with sharing."
CHPA is the only trade association dedicated to the corporate housing industry providing networking, educational and informational opportunities to corporate housing providers globally. The association's Certified Corporate Housing Professional (CCHP) certification exemplifies competence and professionalism in the corporate housing industry. Companies staffed by CHPA Certified Professionals, ensure clients receive professional and courteous service from a trained, highly knowledgeable and skilled professional.
View this press release online.
View all ExecuStay press releases.
Marriott ExecuStay® (ExecuStay.com; 888.840.7829) offers guests of 30 days or more the spaciousness and privacy of a furnished apartment or residence found in over 700 locations in the U.S. Monthly rates include utilities, cable, free wireless and high-speed Internet access, and 24/7 customer service. Apartments are furnished to order, with Elite Dreamer® bedding, television, DVD player, full kitchen including essential cookware, bath linens and laundry facilities. Guests can enjoy the added benefit of earning Marriott Rewards® points, the company's award-winning frequent travel program. In addition, the ExecuStay Insurance Housing Solutions division provides temporary housing for those impacted by unforeseen events. Marriott ExecuStay is part of Marriott International's extended-stay lodging portfolio, which also includes Residence Inn, TownePlace Suites and Marriott Executive Apartments.
Visit Marriott International, Inc. (NYSE:MAR) for company information.
###