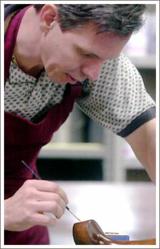 I love my job. I love meeting people and the challenge of problem solving, because every piece of furniture is unique. With more than 35 years of experience, the Wood Wizard has the knowledge and skill to solve and repair any wood situation
Martinez, CA (Vocus/PRWEB) July 06, 2011
Wood Wizard, the Bay Area's leading kitchen cabinet refinishing and wood restoration specialist, is now offering on-site repair of kitchen cabinets and furniture, cabinet resurfacing and re-staining. With more than 35 years of experience, the Wood Wizard is truly a master of furniture restoration, both old and new. Wood Wizard has the dedication, knowledge, patience and skills needed to transform and restore even the most damaged piece.
"I love my job. I love meeting people and the challenge of problem solving, because every piece of furniture is unique. With more than 35 years of experience, the Wood Wizard has the knowledge and skill to solve and repair any wood situation," said Darrell Stimson of Wood Wizard
The Wood Wizard has extensive knowledge and skills in kitchen cabinet and furniture touch-ups as well as refinishing. They use old world techniques to match the wood's grains to each piece. This technique preserves authenticity in matching the original finish whenever possible.
"Most people who learn furniture touch-up do not learn how to refinish. Both skills take extreme patience and attention to detail. That's why many companies often learn one or the other, but not both," said Stimson.
Wood Wizard is offering a free estimate for on-site repair of kitchen cabinets, re-staining and resurfacing and other wood services. Please call Darrell Stimson at (925) 231-0105 or visit Wood Wizard online at http://www.awoodwizard-bayarea.com
About Wood Wizard
Darrell Stimson, also known as the "Wood Wizard," has more than 35 years of experience in restoring wood using old world techniques, a training he learned from the Smithsonian Museum. The Wood Wizard is a master in on-site furniture repair, cabinet re-staining and resurfacing. He also specializes in the on-site restoration processes that will bring the original beauty back to your favorite antique pieces.
###