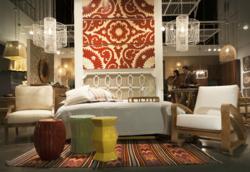 "We were very happy with the success of the two new January shows. The strong attendance has underscored our belief that the furniture industry has begun it's turnaround," said company president, Thatcher Davis.
South San Francisco, CA (PRWEB) February 27, 2013
Selamat Designs, a producer of home and hospitality furniture and accessories, participated in two new trade shows during the month of January. The large number of buyers Selamat Designs encountered while participating in the trade shows has them optimistic about a rebound for the furniture industry.
Representatives from Selamat first attended the Atlanta International Gift & Home Furnishings Market at the AmericasSmart Building, Codarus Suite from Jan. 9-16. The show featured an estimated 100,000 attendees that kept Selamat's sales representatives very busy.
Selamat representatives then attended the Las Vegas Market show Jan. 28-Feb. 1. Selamat had a new showroom on the coveted C3 Floor of the World Market Center. The biannual furniture trade show saw a six percent rise in retail attendance from a year ago and a five percent rise in buyer attendance. Attendance at the Las Vegas Market was the highest the show had seen in four years.
This was the first time Selamat Designs participated in the Las Vegas Market show. Their representatives were able to meet a large number of international and West Coast buyers, something they haven't been able to do at East Coast shows.
The most popular pieces featured at the two shows included the mid-century teak Soren seating and dining collection, bar stools, beach furniture and natural pendant lighting.
Attendees to the two shows from Selamat Designs returned home with a positive outlook on the success of the shows and the future market for the furniture industry. Selamat saw many buyers at these two shows and many people working on active projects. They believe the industry has begun it's long awaited rebound.
About the company:
Started in 1988 and owned by the husband and wife team of Thatcher and Shannon Davis, the creative genius behind Selamat Designs is using sustainably grown natural materials in the highest quality production to create designs and products that will endure. Sure, they make wastebaskets, tables, dining room chairs, hampers, desks, mirrors and benches; they just don't believe in making them disposable. For more information, please visit their website at http://selamatdesigns.com.