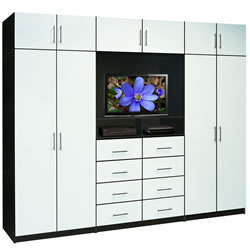 The way people want to furnish their bedroom has changed
Passaic, NJ (PRWEB) December 19, 2012
Contempo Space, manufacturer of entertainment center furniture and several contemporary lines of custom, modular furniture for the bedroom and living room, has released the Aventa Collection of bedroom wall units this week.
This new bedroom furniture brings together common elements found in many bedrooms: televisions and wardrobe cabinets.
"These new bedroom wall units redefine what bedroom furniture is," says Danielle Mancini on behalf of the company.
"The way people want to furnish their bedroom has changed, and we're opening the doors to meet these needs for people at reasonable price points."
With the wide adoption of flat screen televisions in contemporary homes, people no longer need to face difficult decisions about hiding a television in the bedroom behind the doors of an armoire or having a large tube television collecting dust atop a dresser.
The Aventa wardrobe TV units combine wardrobe cabinet storage, an often overlooked and highly efficient means of storing both hanging clothes and those best suited to drawer storage, with a space for the TV and associated electronics.
"We've had dozens of customers looking at the the Alta or Bella wardrobes in the showroom and see the entertainment units and say how they'd like a single piece of furniture that's like a fusion of both," recalls Mancini.
"We've been doing custom drawings for each of these pieces for a couple of years now, and the most common needs for this kind of furniture have emerged. We've basically taken the most common sizes of televisions people are using in their bedrooms and the amount of extra closet storage that typical customers are looking for, and designed the Aventa collection around what we've learned."
This standardization allows Contempo Space to offer the wardrobe wall units at competitive price points, while continuing to offer custom options on each piece of furniture.
Customers can choose from about a dozen different handles at no upcharge, and the fronts of the drawers and cabinet doors can be specified to match the furniture case, or be a different material and finish altogether.
Available finishes include various wood tones, black or white, and go on to include 24 colored glass front choices or mirrored fronts, which can be plain or bevel edge mirrors.
The Final Word in Bedroom Furniture
"A customer choosing the largest piece of the Aventa Collection is getting an 8 drawer chest, accommodation for a 42 inch TV, four doors of hanging wardrobe storage, and six doors of extra cabinet storage across the top.
"All of this is only taking up about 16 square feet of floor space, and can be had at a cost comparable to a well built entertainment center.
"About the only other piece of furniture you'd absolutely need in there after that is the bed itself," Mancini remarks with a good natured chuckle.
Additional information and photography about the new Aventa bedroom wardrobe wall units is available at http://www.contempospace.com/contempo-space-blog/12/17/aventa-collection-new-bedroom-tv-furniture-includes-wardrobe-storage
About Contempo Space:
Contempo Space has been specializing in custom home furnishings for 30 years, offering modern lines of bedroom furniture, living room furniture and more. Design consultants and craftsmen work with customers to create the perfect piece for any space, hand-crafted to meet the customer's specific needs.
To learn more about Contempo Space, the one-of-a-kind company that still puts quality first and still designs and manufactures furniture locally at its Passaic, NJ factory showroom:
Visit http://www.contempospace.com, call 888-266-1280 or come on down to the showroom at 220 Passaic Street, Passaic, NJ