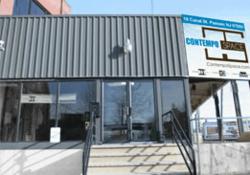 ...our advantage is that we can offer our visitors an unparalleled level of service.
Passaic, NJ (PRWEB) October 02, 2012
With the upcoming High Point Market expected to attract in excess of 80,000 people, furniture is on the minds of many homeowners and designers this time of year.
Furniture manufacturers and retailers across the globe are crunching Q3 numbers and reporting mixed results, as a tepid economy and lukewarm consumer confidence allow only the best in the industry to thrive.
"Contempo Space in a certain way has easier decisions to make than some others in the furniture industry," says Danielle Mancini, a consumer satisfaction specialist for the company.
While bix box stores and international brands attempt to maximize profits with traditional methods such as negotiating furniture pricing with suppliers, offering a varying quality of furniture, adjusting wholesale/retail pricing or possibly managing large advertising and marketing budgets, Mancini says that Contempo Space is in a unique position.
"Since we're a custom manufacturer selling directly to our customers, our advantage is that we can offer our visitors an unparalleled level of service.
"A customer walking into a typical furniture store has a certain number of pieces to choose from. A common issue we hear about is that there's something for sale that's close to what the customer had in mind, but for a purchase like furniture it's going to be around for a long time. The customer is going to be happier if they can get exactly what they want instead of feeling like they had to make some kind of compromise."
Mancini adds that they have this insight because of their close interaction with customers.
"Many customers just need a little tweak to a certain piece of furniture, and they tell us about their space and we can do that for them since we make all the furniture ourselves. When it's a whole room or a whole home, there's a lot of conversation that happens with the customers and we get to know each other quite well. Even the customers who buy directly online are offered a feedback survey so they can let us know how we're doing."
With only a few dozen employees, it's relatively easy to get everybody together and discuss what customers appreciate the most as well as any new customer challenges that might be able to solved through innovative design.
Contempo Space cites mirrored wardrobes, extra tall wardrobe packages and low profile entertainment centers as examples of furniture designs that they have created in response to customer feedback. The most recent addition to the lineup is a full line of custom closets, which was designed in response to customers who expressed desires to make better use of existing closet space.
Moving forward into what is typically the busiest time of year for retail, the people at Contempo Space will continue rely on the strength of their reputation for high quality furniture, flexibility and customer satisfaction to steer customers into the showroom and their accompanying site http://www.contempospace.com where furniture can be customized online.
About Contempo Space:
Contempo Space has been specializing in custom home furnishings for 30 years, offering modern lines of bedroom furniture, living room furniture and more. Design consultants and craftsmen work with customers to create the perfect piece for any space, hand-crafted to meet the customer's specific needs.
To learn more about Contempo Space, the one-of-a-kind company that still puts quality first and still designs and manufactures furniture locally at its Passaic, NJ factory showroom:
Visit http://www.contempospace.com, call 888-266-1280 or visit the showroom on Canal Street @ Passaic Street, Passaic, NJ