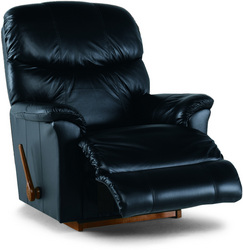 'Skyler' and 'Larson' represent the best of what La-Z-Boy has to offer - comfort and quality
Monroe, Mich. (PRWEB) January 14, 2009
La-Z-Boy, the nation's leading manufacturer of upholstered furniture, has announced its most popular recliner styles just as sports fans across the country get ready for the big game. Football fans who are gearing up to watch the game at home can add a winning recliner to their living rooms, ensuring that they cheer in comfort.
Among the "rookies" in 2008, the "Skyler" brings a sophisticated touch to football fans' living rooms by combining comfort with a sleek and contemporary style. With its pillow top seat cushions, which add an extra sense of luxury, it's no surprise that "Skyler" earned the distinction of the most popular new style of the year. The suggested retail price for "Skyler" starts at $549 in fabric and $949 in leather.
"Larson" offers a generously-cushioned design accented by flared arms and a pillow back. One of the overall most popular La-Z-Boy styles in 2008, its full-body comfort helped "Larson" pull ahead of the pack. The suggested retail price for "Larson" starts at $599 in fabric and $849 in leather, and it is also available with an EcoComfort™ soy-based foam cushion option as well as several eco-friendly fabrics.
"'Skyler' and 'Larson' represent the best of what La-Z-Boy has to offer - comfort and quality," said Penny Eudy, product manager of upholstery for La-Z-Boy. "As two of our most popular styles, these recliners are a 'winning ticket' not only during the football season, but all year long."
Both "Skyler" and "Larson" are available with matching motion sofa and loveseat options so the whole team can watch the game in comfort. For more information about these styles, as well as other "best seats in the house" from La-Z-Boy, please visit http://www.la-z-boy.com.
About La-Z-Boy
Headquartered in Monroe, Mich., La-Z-Boy is North America's largest manufacturer of upholstered furniture and the world's leading producer of reclining chairs. The company manufactures a full line of comfortable products for the living room and family room, including the company's world-famous recliners, reclining sofas and love seats, sleep sofas, modular furniture and leather upholstery, as well as stationary sofas, love seats and chairs. It is a division of La-Z-Boy Incorporated (NYSE: LZB), one of the nation's largest furniture manufacturers and marketers. Comfort. It's what we do. SM
###