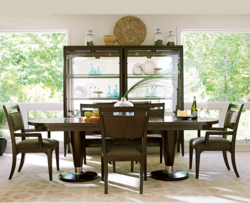 Houston, TX (PRWEB) February 15, 2013
Better Homes and Gardens, together with fellow industry leader Universal Furniture, just debuted its new signature furniture collection, Modern Expressions. The already-popular collection arrived with a huge bang: In January and February only, customers will save $200! The coupon is good for any Better Homes and Gardens purchase of $2000 or more, including items outside of the Modern Expressions collection.
Of course, there's more: customers will also get a free year's subscription to the Better Homes and Gardens magazine – no purchase necessary. They'll even have the chance to win a trip to Aruba and a new BHG 5 piece bedroom suite by registering Better Homes and Gardens online.
A homey hat tip to mid century modern style, the Modern Expressions collection showcases Scandinavian-style touches like sassy splayed legs, plus thoughtful bonus features like hidden storage spaces and built-in charging stations. Deep graphite finish, laurel burl veneers and bright, nickel-finished hardware blend together for a look that will impress again and again.
$200 Better Homes and Gardens coupons are available here. Free magazine subscriptions are available in-store. And that island getaway? The only place to register for that is over at Better Homes and Gardens.
Star Furniture is one of the only Texas retailers partnering with Universal Furniture and Better Homes and Gardens for the 60-day offer. In addition to receiving a magazine subscription from all Star Furniture showrooms, the $200 coupon is available on Star's website or in Star showrooms .
About the company:
At Star Furniture, interior design is about much more than creating a "look." It's about designing a personalized space that is practical for each customer's lifestyle and home. Design service is absolutely free at Star Furniture. Their in-store designers are here to help make the shopping decisions easy, straightforward and affordable. They can pinpoint each style, sort through all options, and develop a design plan that balances function and aesthetics. For more information, please visit their website at http://www.starfurniture.com.