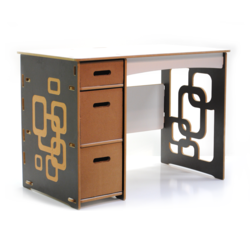 Provo, Ut (PRWEB) July 28, 2012
Quark Enterprises has released Nomad, a line of simple, modern, mobile furniture. Nomad is designed for college students and young professional that are still quite mobile and need furniture that lends itself to easy moving. From beginning to end Nomad Furniture is designed for simplicity.
The nomad line includes a spacious student desk, a bookcase, bins for DVD storage that fit into a cabinet, coffee tables, end tables, and picture frames. All Nomad furniture is ready to assemble and assembles with no hardware and no tools. Nomad is designed to be easy to assemble, disassemble, and reassemble making moving easy and storage easy.
Nomad was conceived as a response to the personal pain of moving. "As a student, I felt like a Nomad," said Clark Davis, Founder at Quark Enterprises. "Every few months I would pack everything I owned into my car and moved. I loved the thrill of moving, but hated the hassle of moving. Nomad helps take that hassle away and bring you the freedom to pursue your dreams."
Nomad is designed to be minimalist. Products are made in the USA and are manufactured from eco friendly materials.
The Nomad desk as well as other products can be pre-ordered online at the kickstarter project page. Products are available for a limited time through Kickstarter for promotional prices with free shipping. If you are interested in becoming a distributor or dropship dealer, submissions are taken at the Nomad contact page.
About Quark Enterprises:
Quark Enterprises designs, brands, and manufactures simple, modern, easy to use furniture. The company has two brands: Sprout which is designed for kids and Nomad which is designed for college students and young professionals. The Sprout line includes playroom furniture such as, rockers, etc and kids storage furniture including cubby shelves and storage bins, art drawer organizers, toy boxes, and nights stands. The Nomad line includes a desk, bookcase, media storage shelves and bins, and picture frames. Quark Enterprises focuses on simple design.