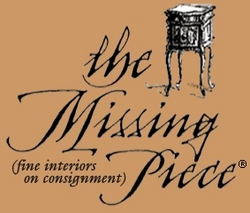 The continued growth of The Missing Piece brand is easily reflected by the ongoing success of our first franchise location
Tampa, FL (Vocus) September 22, 2009
"It's hard to even imagine, during both the good and poor economic times, the incredible amount of business we continue to do."
That statement, made by Mike Hydorn, owner of The Missing Piece's first franchise in Clearwater, Florida, is an anomaly in today's tough retail economic climate. But the concept behind The Missing Piece taps into a flourishing market that has shown amazing staying power in one of the fastest-growing segments of the retail industry – high end furniture consignment.
According to the National Association of Resale & Thrift Shops, consignment stores have seen a 31% rise in year-over-year sales, with the furniture category emerging as one of its rising stars. In this multi-billion dollar industry, the high end furnishings segment is the crown jewel.
"The continued growth of The Missing Piece brand is easily reflected by the ongoing success of our first franchise location," said Barbara Batsavage who founded The Missing Piece with daughter Candace Blackburn in 2002. "Our goal of creating a unique environment to display our gently used furnishings is the foundation of our success. By using generous space to feature extensive designer arranged room "vignettes," our customers feel as though they are enjoying an upscale shopping experience… but paying up to 90% less than retail. And our consignors really do appreciate the dignity with which we display their prized furnishings."
One year ago, the first franchise operation of The Missing Piece was purchased by Hydorn for a location on a major Clearwater, Florida highway. Using the company's computerized systems, showroom display philosophy and industry network of furniture professionals, his store has flourished from day one.
"I only wish I would have done this several years ago instead of struggling through the corporate world. The concept, the training, the sophisticated software, the product and the company are just unbelievable," said Hydorn.
"This is a win-win for everyone involved. Cash-strapped homeowners get to raise some much-needed money, builders get to recoup their investment in barely used model home furniture and homeowners get quality furnishings at a bottom line price. And our cash registers just keep ringing."
Named Tampa Bay's Best Furniture Consignment Store by DuPont Registry, The Missing Piece has targeted several Florida markets for initial franchise expansion.
Identified as meeting or exceeding the demographic qualifications and still available are Orlando, Naples, Jacksonville, Fort Lauderdale, Boca Raton and Pensacola, based on market size and adult demographic makeup of each market. The Sarasota market is currently in the initial stages of franchise development. Additional Southeastern states targeted for further expansion and development include Alabama, Texas, Georgia, Kentucky and Tennessee.
For More Information:
Barbara Batsavage
813.805.2696
http://www.themissingpiecetampa.com
Franchise Inquiries:
Rick Dixon
Director of Franchising
813.960.1999
http://www.themissingpiecetampa.com
###