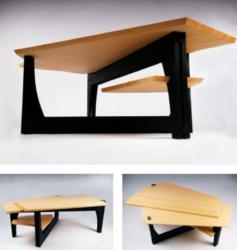 The terms 'green,' 'eco-friendly' and 'stylish' will likely someday be synonymous.
Houston, TX (PRWEB) July 31, 2012
Analyzing feedback from its 20,000 readers and reviewing all its furniture finds gathered over the past five years, Furniture Fashion today released a list of the 30 most essential pieces of eco-friendly furniture its curators have run across in the team's daily search for objects and ideas worth sharing. The interior design blog hosts an archive of more than 5,000 furniture-related posts; it publishes original content 365 days a year.
Ranging from rustic, reclaimed wood pieces to sleek, ultra-modern objects, the list spans a wide range of furniture styles, materials and manufacturing processes. Each piece is considered environmentally friendly because it was either made of sustainable, consciously-sourced materials or upcycled from pre-existing objects that would have otherwise been discarded.
The http://www.furniturefashion.com co-founders advise that "sustainable design doesn't mean sacrificing style; on the contrary, some of the brightest minds in the design industry today are not only inventive and creative from both a visual and functional standpoint; they also bear in mind the impact their pieces will leave on the world behind them. The terms 'green,' 'eco-friendly' and 'stylish' will likely someday be synonymous."
The list -- the first of its kind for the site, which normally publishes daily roundups of ten variations on the day's theme -- is divided into six categories: tables, chairs, lights, accents, bedroom and kitchen. According to the Furniture Fashion team, each object featured is one of both style and substance that, whether classic or contemporary, was thoughtfully crafted with the environment's well being in mind.
Furniture Fashion's Top 30 Eco-Friendly Home Furnishings
The Tables:
Bamboo Coffee Table by Ken Tomita
Darjeeling Dining Table from CB2
Dovetail Bowling Lane Table from CounterEvolution
Coffee Table by Golden Gate Bridge Furniture Company
Solid Wood Dining Table from Hudson Furniture Company
Spool Top Coffee Table from MFEO
The Chairs:
Bourbon Barrel Stave Chairs by Uhuru Design
Mirra Chair from Herman Miller
Seatbelt Chair by Adam Barron
Wood Chair by Gursan Ergil
Lounge Chairs by Piet Hein Eek
Wood Rocker by Carlos Motta Asturias
Sleek Chair by Inoda Sveje Design Studio
The Lights:
Pull Tab Pendant from Mauricio Affonso
Wine Bottle Lights from Jerry Kott
Glowing Nourishment Lamp by Carolyn Joan Lau
Tucker Soda Bottle Pendant from Inhabit
The Accents:
Bio-ethanol Indoor Fireplace by Brasa
Interchangeable Carpet Tiles from FLOR
Ortensia Bench by 13Ricrea
Milk Carton Porch Swing by Loll Furniture
Elevated Dog Bowl Stand by Muir
Repurposed Door Desk by Manoteca
Writing Desk by Knu
Fair Trade Coffee Bag Ottoman by GUS
The Bedroom:
Eco-friendly Dresser from Iannone
The Edge Bed from Environment
Turquoise Nightstand by Vincent Lehman
The Kitchen:
Kitchen Cabinets by GreenTech Cabinetry
Recycled Non-toxic Cabinets by Alno
This list was compiled by the http://www.furniturefashion.com editorial team.