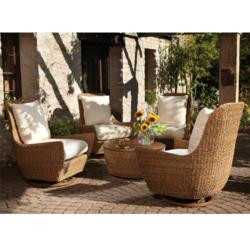 Lloyd Flanders introduces 9 new collections for the 2013 season.
Chicago, IL (PRWEB) January 31, 2013
For Lloyd Flanders, a company with over 100 years of tradition and furniture making experience, 2013 will be a year of staying true to their high quality wicker furniture while also branching out from tradition with new innovations that blend the classic look of wicker with more modern elements. Along with the development of the new Loft Line of casual furniture (which features both wicker and non-wicker collections) Lloyd Flanders has introduced 9 brand new collections to their catalog, all of which are currently available for sale at FurnitureForPatio.com. From the Original Lloyd Loom line of all-weather wicker furniture comes the new Canyon Collection, which takes inspiration from the classic Rio collection, and the Mod Collection which sees wrought aluminum legs play contrast to wicker seating for a visually pleasing, modern look. This new style of utilizing the aluminum frame in an exposed manner can also be seen in the Fusion Collection; one of 5 that make up the new to 2013 Lloyd Flanders Loft Line.
The Fusion collection is comprised of several seating options all of which feature the classic woven look of Lloyd Loom (offered in all Lloyd Flanders custom wicker finish options) with a touch of elegance and contemporary style as seen in the uniquely flared arms and thin exposed aluminum legs. The Fusion Collection also includes 3 accessory tables designed to play off the exposed legs of the seating, and lay on glass table tops bring a reflective appeal to any patio space. Also available from the Loft Line are the Pool Side and SoHo collections, both of which break away from the tried and true and push forward with designs that are fresh and new.
Not only do the 2013 Lloyd Flanders Collections feature new look styles, but also brand new material. A highlight for the company in the upcoming year is the introduction of Resysta; a material that is almost identical to tropical wood but is actually a fiber-reinforced hybrid material that ranks high in both sustainability and durability. Resysta is resistant to harsh elements such as water, pests, and fungi, and comes in 4 different teak color finish options allowing consumers to adorn their outdoor living spaces with the rich look of natural wood without any of the problems or upkeep concerns. This new material is featured prominently in the Parson Tables collection, which offers a selection of table options for the patio space such as end tables, dining tables, and cocktail tables, as well as used in 2 of the 3 new Woven Vinyl Collections; Mesa and Tobago.
The Mesa Collection is one of bold design and bark-like texture weave in an exclusive dark pecan finish, as well as one of versatility as it features a selection of modular units ideal for creating outdoor sectional sets and ever-changing seating arrangements. Comprised of 8 seating options in total, an accessory ottoman, and 4 Resysta tables, Mesa is sure to complement any outdoor living space with its transitional blend of natural looking wicker and robust, urban deep seat styling. Equally stunning and stylish, the Tobago Collection takes us from urban to Caribbean flair as its use of a twisted weave style in Hyacinth finish color as well as Resysta legs captures the very spirit of an island getaway vacation. The woven vinyl Tobago collection includes 6 seating options from dining chair to three-seat sofa, as well as a few barrel/drum style accessory tables (complete with Resysta tops) and two unique umbrella dining tables that introduce a stone table top for a smooth, sturdy surface. Joining these two new to 2013 woven vinyl collections is also the Cottage Collection which is classic wicker at its best; offering a more rustic, woodland retreat like style to the patio space.
All Lloyd Flanders furniture is proudly made in the USA and can be custom ordered with Furniture For Patio's easy click and choose drop down menus so that consumers can best match these 9 new collections, as well as all other Lloyd Flanders furniture to the rest of their patio decor. As a bonus, FurnitureForPatio.com is also offering free nationwide shipping on all current and new Lloyd Flanders collection (26 in total) as part of their continued efforts to be YOUR source for outdoor living!