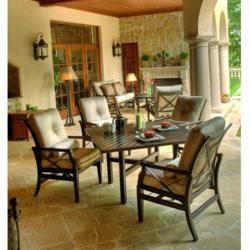 Woodard Furniture - A History of Quality Outdoor Furniture Design and Construction.
Chicago, IL (PRWEB) January 30, 2013
FurnitureForPatio.com is proud to add Woodard Furniture to their extensive lineup of casual outdoor furniture for the 2013 season. Showcasing furniture that is designed using a combination of hand-forming techniques and high-tech manufacturing processes, Woodard is able to develop unique and timeless pieces ranging from classic patio flair to contemporary artistic style, and does so while promoting strength and durability in each and every finished product. Woodard is featured at homes all over, but its most notable location is at The White House, which is a crowning achievement in the company's 140+ years of creating beautifully crafted aluminum, wrought iron, and wicker furniture.
The techniques used in creating Woodard's aluminum furniture have been skillfully mastered over the years and the process begins with using only the purest aluminum extrusions and highest grade ingots for superior resiliency. The aluminum collections featured at FurnitureForPatio.com generally offer a more classic style, such as seen in the Woodard Andover Cushion collection with its clean lines and crossbar design on both the arms and back of each seating option, or the Arkadia Cushion which captures the essence of a stately manor. Woodard's aluminum furniture is not only outfitted with generously sized plush cushioning, however, as many of the cushion collections are also offered in a sling variation as exampled by the popular Arkadia Sling collection, which utilizes the same stately aluminum frame as its cushion sibling but replaces the cushioning with fast drying, weather-resistant sling material. The blend of durability and beauty offered by these stunning collections is truly what sets Woodard aluminum furniture apart from the rest, making them a consumer favorite for use throughout the years.
From the classic look of Woodard's aluminum to modernly styled wrought iron, The Jax Collection is all about bold contemporary style that uses solid iron stock frame combined with a unique micro-mesh trim. The Jax Collection is one of three wrought iron collections currently for sale at FurnitureForPatio.com, and showcases a boxed style look and square cushions that nest snugly within the wrought iron frame. While the Jax Collection is best suited for a more modern outdoor living space, Woodard's wrought iron delivers on a traditional level as well with collections such as the Terrace. Capturing a more elegant, classic wrought iron look, Terrace is garden style through and through with gracious curves and hand-formed framing. The cushioning included with Terrace is all encompassing, and paired with deeper-depth seating makes it one of the most comfortable wrought iron collections on the market today. Both Wrought Iron and Aluminum collections can be custom ordered with a choice of standard or premium frame finish colors and fabric color options for the cushions/sling.
Woodard has thrived on offering consumers a wide variety of outdoor seating options, and as a result their catalog also consists of a number of wicker collections to be enjoyed in all seasons. Wicker has fast become a popular choice amongst patio enthusiasts, and Woodard wicker furniture is constructed using cutting edge synthetic fibers that have been hand woven over sturdy aluminum for an appearance almost identical to natural wicker. Woodard's wicker varies in style but lands more on the side of contemporary, especially when it comes to the Domino Collection. Having been created by renowned designer and HGTV host Joe Ruggiero, Domino features a unique look as well as many unique products such as pie shaped corner piece, a standing shade canopy, even an all wicker bookcase. This collection is also one of versatility as it focuses on modular seating which allows consumers to create custom sectionals for entertaining guests. The Domino Collection comes in an exclusive honey wicker finish color, and each of Woodard's Wicker collections comes with its own unique finish, but much like the wrought iron and wrought aluminum collections, so to can the cushions of each wicker collection be custom ordered in choice of fabric color/pattern.
FurnitureForPatio.com is currently featuring 14 Woodard collections in total, with more to be added in the future. The wrought iron and aluminum collections include a 15 year limited warranty, and all wicker collections are backed by a 3 year limited warranty. Custom ordering can be done directly from the company's easy click and choose drop down menus and ALL Woodard products are now being offered with free nationwide shipping. With the addition of Woodard Furniture to the company's carried brands, FurnitureForPatio.com continues to be, "Your Source for Outdoor Living" providing you with the best of the best in the casual furniture industry today.