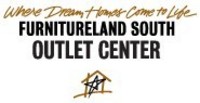 This concept is a direct response to what our customers have been asking for. Great quality home furnishings, at a substantial discount, with immediate availability
Jamestown, N.C. (PRWEB) August 12, 2009
Furnitureland South, the World's Largest Home Furnishings Showplace, is excited to announce the Grand Opening of its newly expanded and renovated Outlet Center. The 300,000 square-foot Outlet Center showcases more than 150 meticulously designed rooms of quality home furnishings, many at or below dealer cost. Unlike custom-order items, each Outlet Center item is available for sale off the floor, and clients may take their purchases with them or have them delivered with complete in-home set up.
The Outlet Center features special purchases, one-of-a-kind pieces, and discontinued name-brand collections. In addition, Furnitureland South is able to draw on its incredible buying power to purchase dozens of manufacturer showrooms from the High Point Market each year, creating an enormous selection of the latest in designer styles and home furnishing trends.
"This concept is a direct response to what our customers have been asking for. Great quality home furnishings, at a substantial discount, with immediate availability," said Jeff Harris, Executive Vice President at Furnitureland South. "The Outlet Center is a great supplement to our core business, which has always been comprised of special orders. I am truly amazed at the prices that we are able to extend to our customers on the thousands of items that are showcased here. We see tremendous potential for growth with the addition of the Outlet Center, and are pleased to be able to bring the best of the High Point Market to the public."
To celebrate the Grand Opening, Furnitureland South is holding a drawing for a $5,000 Outlet Center Shopping Spree. Participants may register for a chance to win in the store or online throughout the month of August. Contest details are available online at http://www.furniturelandsouth.com/outlet-center-contest.php.
About Furnitureland South
With more than 1 million square feet of home furnishings and accessories, Furnitureland South provides acres of exquisitely designed vignettes, expert designers and a white-glove national delivery service. The store is a multi-day destination for discerning consumers from every state and many foreign countries.
###