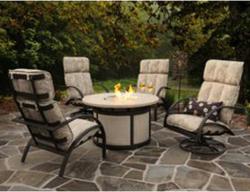 Now is the time to save on patio furniture. Offering up to 30% off and free shipping on all orders!
Chicago, IL (PRWEB) November 24, 2012
With the season of hustle and bustle and non-stop shopping coming up, FurnitureforPatio.com looks to relieve the stress of store to store to store hassles with its week long Cyber Monday event. Offering its continued convenience of online browsing, selecting, and purchasing, FurnitureForPatio.com is adding free shipping into the mix when you purchase anything from their store between 11/26 (Cyber Monday) and 12/2. This week of saving on shipping applies to past collections from the 2012 year, and applies to all of the new to 2013 collections the online patio furniture superstore has to offer.
Patio furnishings have always made for great Holiday gifts, whether for someone you know or for yourself, and with free shipping on all products from some of the best manufacturers in the casual furniture industry. In addition to free shipping, FurnitureForPatio.com also offers up to 30% off retail prices, making it the perfect time to buy patio furniture. FurnitureForPatio.com has also recently added new 2013 collections from Telescope Casual, Lloyd Flanders, OW Lee, Homecrest, PolyWood allowing you to shop from the latest innovative products in the outdoor furniture industry.
Eliminating the need to drive around from store to store, all the great low priced furniture is at your fingertips during FurnitureForPatio.com Week Long Cyber Monday Savings Event! Start the New Year with new furnishings and great savings during the sale between Monday November 26th and Sunday December 2nd to be eligible for these savings.
Since 2007, FurnitureForPatio.com has been living up to its reputation for delivering quality products and quality customer service to its loyal customers. FurnitureForPatio.com is proud to offer its customers some of the best furniture at competitive pricing, from their easy to use and convenient online store. No coupon code is needed and all customers are eligible to receive free shipping on every order, making this the perfect time to save $100's on big patio furniture purchases.