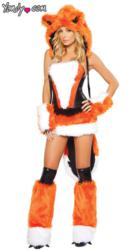 Phoenix, Ariz. (PRWEB) September 30, 2012
The latest trend in adult Halloween costumes are plush, faux fur animal costumes and Yandy.com, online retailer of costumes and lingerie, offers shoppers one of the largest collection of furry costumes on the web.
With furry legwarmers, soft furry hoods and gloves, Yandy's collection of furry costumes offer shoppers a complete, head to toe look this Halloween. Some of the newest head-turning additions to Yandy's collection this year include the deluxe penguin costume with a soft black and white dress, penguin legwarmers and plush hood with a penguin face, Yandy exclusive royal blue bear costume featuring cloud print corset, furry skirt, heart and cloud print legwarmers, blue bear hood and gloves and the green and blue, plush puff the dragon costume which includes a soft mini dress, dragon hood with attached horn tail, claw legwarmers and gloves.
While Yandy has added new costumes this 2012 season, some of the original furry animal costumes are still Yandy's best sellers. Costumes like the sexy wolf, sexy skunk and Yandy's signature sexy fox costumes are hard to keep on the shelves year after year.
All of Yandy's furry costumes are made of 100 per cent faux fur so customers can rest assured that no animals were harmed in the making of these popular costumes. Yandy's furry animal costumes are made of the highest quality faux fur and cuddle plush fabrics and range in price point ranges from $59.95 to $330.95.
Not only do shoppers have so many options to choose from but they also receive several perks for shopping at Yandy. All orders over $70 at Yandy receive free, flat rate shipping and any order at Yandy, regardless of the total, gets a free panty gift as a thank you for shopping. In addition, Yandy offers same day shipping so even when shoppers are scrambling to get that last minute furry animal Halloween costumes, they can rest assured Yandy will always work to get their items out to them in a fast and efficient manner.
About Yandy.com
E-commerce is on the rise and Yandy.com is one of the largest online retailers of lingerie, sexy Halloween costumes, swimwear and clothing on the web. Founded in 2003, Yandy boasts more than 6,500 products always in stock at easily affordable prices. Yandy ensures that every customer will receive a safe, secure and private online shopping experience and is backed by COMODO online security and Google Checkout. Yandy is dedicated to customer service and only sells what is in stock which allows for quick, same day shipping. Offering the highest quality products at the most affordable prices in the market, Yandy has become a leader in ecommerce. Yandy works closely with all of the manufacturers they distribute for and hand select all of the items on the Web site to ensure customers have the largest and most diverse collection to choose from. In addition, the customer service team at Yandy is unrivaled. With attentive and helpful operators, should a question or problem arise, the customer service team at Yandy is always willing and able to assist. At Yandy, every customer can Be Sexy.
###