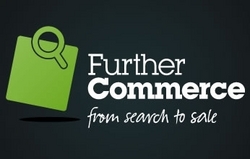 (PRWeb UK) February 28, 2011
NMA Top 25 Agency Further Search Marketing, which is based in Norwich and London, has launched what it believes to be a killer package for online retailers, offering a service which covers the whole spectrum – from strategy to site, search to sale – with revenue and target based campaigns the order of the day.
Clients are now finding themselves working with Further on agreed KPI terms, which they are finding a breath of fresh air as it directly proves a return on investment, something rankings alone can never do.
To understand how Further has been able to manoeuvred itself into a position to do this, you just need to look at the make-up of this far from traditional search agency.
Firstly its team is a mix of pure marketing and digital marketing experts, so the ability to create and define results-led strategies is part of everyday life.
This has been recently complemented by the launch of Further's own unique SEO ready ecommerce platform late in 2010 – a platform developed in-house over 18 months by a working party deliberately made up of designers, developers, marketers and search marketing consultants. So not exactly your everyday ecommerce solution.
The result is search friendly, high converting sites which are already proving head-turning results for early-adopting clients across a number of retail sectors. Design is, of course, bespoke (rather than templated) and undertaken by Further's award-winning design unit. Conversion rates of up to 8% are already being delivered through the platform.
Naturally, Further's core expertise across search and social media is helping to drive the traffic and organic rankings required to fuel the response, working to a clear and commercial strategy.
As Further co-Founder Steve Jaggard points out " Further is now in a position not just to provide market-leading search results for its spread of retail clients, but a complete ROI service working from the strategy right through to sale and conversion."
" In essence, etailers and retailers can now see Further as specialists in making them more successful and profitable online. We are rapidly moving towards a point whereby we will be able to set and agree a client's full year budgets based on revenue-based KPIs, and dare we say it, guaranteed returns where we have created the site and are in full control of conversion rates. Ultimately, because of this assurance, the mix of activity and techniques we use to gain the results will become less relevant and important to clients, enabling us to be more flexible with campaigns on a month by month basis. It's far from a pipedream, it has already started to happen with a number of clients, and why shouldn't it? After all, the clients are in a no-lose situation."
For details of what Further is doing for its clients and how it can maximise your organisation's potential online, visit http://www.further.co.uk or call Client Services Director Louisa Mann on 01603 878240.
Independently owned, Further Search Marketing is an NMA Top 25 ranked UK search agency working for clients as diverse as expedia, flooringsupplies.co.uk, action, mazda, pine solutions, economy car hire and bikesure. Finalists NMA Effectiveness Awards 2010. Winners EDP Best New Business 2009. A 'Future 50' Company to Watch 2011.
###